For Use With

For Use With
Show
For Use With

For Use With
Hide
Warning: Products have one, but not necessarily all, of the selected characteristics.
REACH (Registration, Evaluation, Authorization and Restriction of Chemicals)

REACH

(Registration,




Evaluation,

Authorization
and Restriction of

Chemicals)
DFARS (Defense Acquisition Regulations Supplement)

DFARS

(Defense

Acquisition

Regulations

Supplement)
Maximum Length Measured

Maximum Length Measured
RoHS (Restriction of Hazardous Substances)

RoHS

(Restriction

of
Hazardous

Substances)
V-Belt

and Pulley Trade Size Identifiers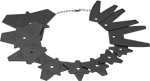 Measure V-belt cross sections and pulley groove depths to select the correct size belt. Individual pieces are connected with a ball chain.
For Belt Trade Size

For Use With

(No. of Pieces)

Material
Color
Each
3V, 5V, 8V, A, B, C, D, E

V-Belts (3), V-Belt Pulleys (8)
Plastic
Blue
0000000
000000
V-Belt

Trade Number Identifiers

Quickly determine the size of any belt.
For Belt
Trade Size

Material
Color
Maximum Length
Measured
Each
2L, 3L, 4L, 5L

Aluminum and Plastic
Orange
100"
0000000
0000000