Tire Pressure Gauges with Indicator Bar

With One Angled Head

With Angled Head and Straight Head
A bar slides out of the top of these gauges to display pressure reading.
Tire Inflator Gauges
Mate these gauges to a compressed air line to measure pressure while inflating tires. They are strong enough to stand up to constant use.
Indicator bar readouts slide out of the top of the gauge to display pressure readings.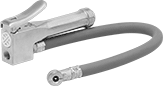 Indicator Bar Readout
Replacement Hose with Two Angled Heads
Replacement
Hose
Assemblies

Head
Type
Number
of
Heads
psi
kPa
Numeric


Increments,


psi
Indicator
Bar
Material

Lg.

Material
Pipe
Size

Thread
Type
Gender
Thread
Size

Thread
Type
Gender
Each
Each

Aluminum

Angled
1
10-120
80-840
2
Plastic
12"
Rubber

1/4

NPT

Female
0.305"-32

Schrader

Female
0000000
000000
000000
00
Angled
2
10-120
80-840
2
Plastic
12"
Rubber

1/4

NPT

Female
0.305"-32

Schrader

Female
0000000
00000
0000000
000000
Straight
1
10-120
80-840
2
Plastic
12"
Rubber

1/4

NPT

Female
0.305"-32

Schrader

Female
0000000
00000
000000
00