Combustion Efficiency Meters
Also known as a combustion analyzer, this meter measures boiler and furnace combustion efficiency. It automatically calibrates to normal atmospheric oxygen.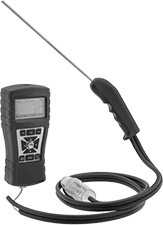 For
Use
On
Ambient


Temp.

Flue
Gas


Temp.

Flue
Gas
Oxygen
Carbon


Monoxide,


ppm
Combustion
Efficiency
Carbon
Dioxide
Air Free
Carbon


Monoxide,

ppm
Excess
Air
Accuracy
Batteries
Included
Each
Kerosene, Natural Gas, Oil, Propane
25° to 110° F
-4° to 1200° F
0-20.9%
0-2,000
0.1%-100%
0-15%
0-9,999
0-250%
±0.3% of Oxygen Content
Yes
0000000
0000000
Electrical Resistance Testers for Static Control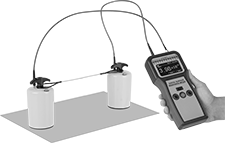 Packaging Probe

Small Parts Probe
Check that your material and work surfaces won't discharge static electricity, which can damage sensitive electronics. These testers are designed to take measurements in accordance with ANSI guidelines for electrostatic discharge control. They measure electrical resistance up to 1×1012 ohms—five orders of magnitude greater than our multimeters.
These testers measure resistance between two points on a surface and from the surface to a ground. To avoid a sudden release of static, resistance should be between 1×106 and 1×109 ohms.
Use the small parts probe (sold separately) to measure resistance on small items or in hard-to-access areas. Use the packaging probe (sold separately) to measure resistance of thin packaging and films.
Resistance,

ohms
Accuracy
Features
Includes
Included
Size

No.


Required
Each
1×103-1×1012
±10%
Battery Life Indicator, Data Memory
1 Alligator Clip, 1 Carrying Case, 1 Ground Plug Adapter, 2 Probe Spacers (10" Lg. and 36" Lg.), 2 Test Leads, 2 Test Probes
Yes
AA
4
000000
000000000
Heat Stress Monitors
Measure temperature, humidity, and radiant heat in your work area to keep your team safe from heat-related hazards. These monitors help you avoid dangerous conditions and comply with OSHA standards for a safe work environment. They use a variety of measurements from your surroundings to calculate the heat stress index and the wet bulb globe temperature (WBGT), which tell you how hot it feels. Set a maximum wet bulb globe temperature, and an alarm will go off when heat reaches the safety limit.
These monitors have two sensors. One measures temperature, humidity, dew point, and wet globe temperature. The other measures black globe temperature, which is the effect of direct solar radiation on an exposed surface. Carry monitors with you to measure different areas, or mount to your tripod to measure conditions over time.
To maintain their accuracy, monitors should be calibrated once a year. You can calibrate the monitor yourself using humidity standards. These standards contain a known humidity, so you can adjust your monitor until it reads the humidity correctly.
Monitors that come with a calibration certificate traceable to NIST have passed a test for accuracy.
Power these monitors with the included batteries, or add a power adapter to plug them in.
Add a memory card to store your readings and export them to a computer.