Contact/Noncontact

Tachometers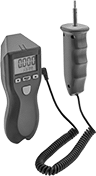 Capture high-speed readings from a distance in noncontact mode or use the speed wheel to switch to contact mode. This tachometer comes with a calibration certificate traceable to NIST that states it has passed a test for accuracy. It has a 1/4"-20 female threaded bushing for tripod mounting.
BNC cable (sold separately) sends signals from the tachometer to a data collector.
Contact
Noncontact
Contact
Noncontact

Max.

Measuring


Distance,

ft.

Display
Type
Includes
Scale
Batteries
Included
Each
0.5-20,000
5-200,000
±0.05%
±0.01%
25
LCD
4" Speed Wheel,

1/4

"-20 Female Threaded Bushing, 5 ft. Reflective Tape, Measuring Tip for Flat-End Surfaces, Measuring Tip for Shafts with Center Hole
cm/hr, cm/min, cm/sec, ft./hr, ft./min, ft./sec, in./hr, in./min, in./sec, m/hr, m/min, m/sec, rph, rpm, rps, yd./hr, yd./min, yd./sec
Yes
00000000
0000000

Take field measurements of temperature, dew point, heat index, wind chill, wind speed, and relative humidity.
Display
Digit


Ht.

Resolution

Ht.

Wd.

Dp.

Housing
Material
Includes
Batteries
Included
Each
LCD

3/8

"
0.1
4

7/8

"
1

7/8

"
1

1/8

"
Plastic
Carrying Case, Lanyard
Yes
000000
0000000