Contact/Noncontact

Tachometers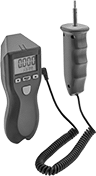 Capture high-speed readings from a distance in noncontact mode or use the speed wheel to switch to contact mode. This tachometer comes with a calibration certificate traceable to NIST that states it has passed a test for accuracy. It has a 1/4"-20 female threaded bushing for tripod mounting.
BNC cable (sold separately) sends signals from the tachometer to a data collector.
Contact
Noncontact
Contact
Noncontact

Max.

Measuring


Distance,

ft.

Display
Type
Includes
Scale
Batteries
Included
Each
0.5-20,000
5-200,000
±0.05%
±0.01%
25
LCD
4" Speed Wheel,

1/4

"-20 Female Threaded Bushing, 5 ft. Reflective Tape, Measuring Tip for Flat-End Surfaces, Measuring Tip for Shafts with Center Hole
cm/hr, cm/min, cm/sec, ft./hr, ft./min, ft./sec, in./hr, in./min, in./sec, m/hr, m/min, m/sec, rph, rpm, rps, yd./hr, yd./min, yd./sec
Yes
00000000
0000000
High-Accuracy

Panel-Mount

Tachometers with Certificate of Calibration
Accurate to within ±0.001% of reading, these tachometers come with a calibration certificate traceable to NIST that states they've passed a test for accuracy. Install in a convenient location and measure speed remotely using a sensor (sold separately). Use the buttons on the front panel to program the unit.
Proximity sensor detects moving metal objects, such as gear teeth and fan blades and can be used in dirty and wet environments. Maximum measuring distance is 0.2" from a 1/2" minimum size metal target.
Magnetic sensor has a maximum measuring distance of 0.005" from a 0.1" minimum size ferrous metal target.
Optical sensor performs best in clean environments and works at up to a 45° angle from reflective tape.

Totalizing
Range
Display
Type
Scale

Ht.

Wd.

Dp.

Voltage
Frequency
Wire
Connection
Type
Connection
Type
Features
DIN
Trade
Size
Mounting
Hardware
Included
Each

5-999,990

rpm Measuring Range

(±0.001% Accuracy)

Tachometer

1-99,999
LED
Flashes per Minute, rph, rpm, rps, Total Revolutions
1.8"
3.6"
4.5"
100-240V AC
50 Hz/60 Hz
Screw Terminals
__
Maximum Reading Recall, Minimum Reading Recall, Programmable, Totalizing Mode

1/8

Yes
0000000
0000000

Tachometer with 4

mA-20

mA Current Output

1-99,999
LED
Flashes per Minute, rph, rpm, rps, Total Revolutions
1.8"
3.6"
4.5"
100-240V AC
50 Hz/60 Hz
Screw Terminals
4-pin USB Type A (Male)
Maximum Reading Recall, Minimum Reading Recall, Programmable, Totalizing Mode, Two Internal Alarms

1/8

Yes
00000000
000000

Tachometer with 0V

DC-5V

DC Voltage Output

1-99,999
LED
Flashes per Minute, rph, rpm, rps, Total Revolutions
1.8"
3.6"
4.5"
100-240V AC
50 Hz/60 Hz
Screw Terminals
4-pin USB Type A (Male)
Maximum Reading Recall, Minimum Reading Recall, Programmable, Totalizing Mode, Two Internal Alarms

1/8

Yes
00000000
000000

Proximity Sensor

Magnetic Sensor

Optical Sensor