Soldering Iron Tip Thermometers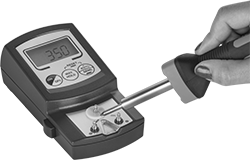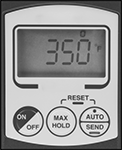 Sensor
Touch the tip of your soldering iron for a fast, accurate temperature reading. Within about five seconds, you'll know how hot the iron is, so you can decide whether it's ready for your particular soldering material and application.
A metal alloy coating on the sensor's contact point resists corrosion and oxidation, so your readings will stay accurate throughout the life of the thermometer. And a sensor burnout alarm alerts you when the sensor is worn out and needs to be replaced.
Press the auto hold button to smooth out small, 1° to 2° fluctuations in temperature, which can be distracting when trying to read the display. Once the thermometer has a stable reading, it displays the average temperature instead of the exact temperature.
The max hold button displays the highest measured temperature, so you know your soldering iron hasn't become too hot for the job. It's especially useful when you're soldering sensitive components, such as printed writing boards (PWBs).
These thermometers have three standards markings: MET, CE, and EMC. MET means they meet U.S. and Canadian performance and safety standards. CE is the marking for European performance and safety standards. And EMC markings indicate the thermometers meet European standards for electromagnetic compatibility.
Some thermometers come with a calibration certificate traceable to NIST, which states that the thermometer has passed a test for accuracy.
Temperature
Range
Resolution
Accuracy

Ht.

Wd.

Dp.

Housing
Material
Specifications
Met
Digit


Ht.

Batteries
Included
Includes
Each

Thermometers

32° to 932° F/0° to 500° C
1° F/1° C
±6° F/±3° C
5

1/2

"
2

11/16

"
1

3/4

"
Plastic
MET Marked, CE Marked, EMC Marked

7/8

"
Yes
Ten Replacement Sensors
00000000
0000000

Thermometers with Calibration Certificate Traceable to NIST

32° to 932° F/0° to 500° C
1° F/1° C
±6° F/±3° C
5

1/2

"
2

11/16

"
1

3/4

"
Plastic
MET Marked, CE Marked, EMC Marked

7/8

"
Yes
Ten Replacement Sensors
00000000
000000