Opening-and-Closing

Torque Testers for Caps and Knobs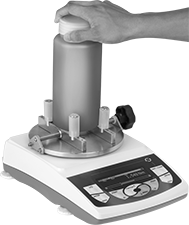 Measure the twisting force needed to tighten or loosen caps and knobs with these torque testers. Four adjustable gripping posts clamp round and irregularly-shaped containers. Twist the top by hand to measure force or use it to calibrate your capping machine, so it applies the right amount of force in a production line. These testers have overload protection, which prevents damage to the measuring system if you accidentally exceed the torque range.
View torque measurements, change operating modes, and switch units of measurement on the LCD screen. Store data on the SD card, transfer it to your devices via Bluetooth or USB, or print using the DB9 cable. The I/O cable connects to controllers to operate other devices dependent on torque force readings.
Testers with a calibration certificate with test data traceable to NIST meet standards for accuracy.
Torque
Range
Graduations

Torque-Measuring


Direction
Clockwise
Counterclockwise

Ht.

Wd.

Dp.

Ht.

Opening
Range
Voltage
Plug
Type
Cord


Lg.,




ft.

Each

Testers

0.01 to 17 lbf-in.
0.1 to 200 gf-m
0.001 to 2 Nm
0.01 lbf-in.
0.1 gf-m
0.001 Nm
Clockwise and Counterclockwise
±0.5%
±0.5%
6"
9

1/4

"
13

1/2

"
1

1/2

"
0.813" to 7"
120V AC
Two Prong
5
0000000
000000000
0.01 to 44 lbf-in.
0.1 to 500 gf-m
0.001 to 5 Nm
0.01 lbf-in.
0.1 gf-m
0.001 Nm
Clockwise and Counterclockwise
±0.5%
±0.5%
6"
9

1/4

"
13

1/2

"
1

1/2

"
0.813" to 7"
120V AC
Two Prong
5
0000000
00000000
0.1 to 100 lbf-in.
0.1 to 1,000 gf-m
0.1 to 10 Nm
0.1 lbf-in.
1 gf-m
0.01 Nm
Clockwise and Counterclockwise
±0.5%
±0.5%
6"
9

1/4

"
13

1/2

"
1

1/2

"
0.813" to 7"
120V AC
Two Prong
5
0000000
00000000

Testers with Calibration Certificate with Test Data Traceable to NIST

0.01 to 17 lbf-in.
0.1 to 200 gf-m
0.001 to 2 Nm
0.01 lbf-in.
0.1 gf-m
0.001 Nm
Clockwise and Counterclockwise
±0.5%
±0.5%
6"
9

1/4

"
13

1/2

"
1

1/2

"
0.813" to 7"
120V AC
Two Prong
5
0000000
00000000
0.01 to 44 lbf-in.
0.1 to 500 gf-m
0.001 to 5 Nm
0.01 lbf-in.
0.1 gf-m
0.001 Nm
Clockwise and Counterclockwise
±0.5%
±0.5%
6"
9

1/4

"
13

1/2

"
1

1/2

"
0.813" to 7"
120V AC
Two Prong
5
0000000
00000000
0.1 to 100 lbf-in.
0.1 to 1,000 gf-m
0.1 to 10 Nm
0.1 lbf-in.
1 gf-m
0.01 Nm
Clockwise and Counterclockwise
±0.5%
±0.5%
6"
9

1/4

"
13

1/2

"
1

1/2

"
0.813" to 7"
120V AC
Two Prong
5
0000000
00000000