Opening-and-Closing

Torque Testers for Caps and Knobs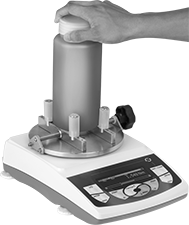 Measure the twisting force needed to tighten tops, loosen lids, and turn potentiometer knobs or valve wheels. These testers are often used to fine-tune automated capping machines, or to help design bottling and packaging processes. An adjustable clamp holds your container in place while you open and close the cap. Four posts on the clamp can be moved to fit objects of any shape.
Store your data on the included Micro SD card, or send it to tablets and computers using Bluetooth or a USB connection. Connect to a controller using the I/O cable to control other devices dependent on torque readings. The RS232 cable lets you send data directly to your printer to create reports or labels.
Choose a torque range that is greater than the force you will be testing. These testers have overload protection, which prevents damage to the measuring system if you accidentally exceed the torque range.
Testers with a calibration certificate with test data traceable to NIST adhere to strict guidelines for accuracy.
Torque
Range
Graduations

Torque-Measuring


Direction
Clockwise
Counterclockwise

Ht.

Wd.

Dp.

Ht.

Opening
Range
Voltage
Plug
Type
Cord


Lg.,




ft.

Each

Testers

0.01 to 17 lbf-in.
0.1 to 200 gf-m
0.001 to 2 Nm
0.01 lbf-in.
0.1 gf-m
0.001 Nm
Clockwise and Counterclockwise
±0.5%
±0.5%
6"
9

1/4

"
13

1/2

"
1

1/2

"
0.813" to 7"
120V AC
Two Prong
5
0000000
000000000
0.01 to 44 lbf-in.
0.1 to 500 gf-m
0.001 to 5 Nm
0.01 lbf-in.
0.1 gf-m
0.001 Nm
Clockwise and Counterclockwise
±0.5%
±0.5%
6"
9

1/4

"
13

1/2

"
1

1/2

"
0.813" to 7"
120V AC
Two Prong
5
0000000
00000000
0.1 to 100 lbf-in.
0.1 to 1,000 gf-m
0.1 to 10 Nm
0.1 lbf-in.
1 gf-m
0.01 Nm
Clockwise and Counterclockwise
±0.5%
±0.5%
6"
9

1/4

"
13

1/2

"
1

1/2

"
0.813" to 7"
120V AC
Two Prong
5
0000000
00000000

Testers with Calibration Certificate with Test Data Traceable to NIST

0.01 to 17 lbf-in.
0.1 to 200 gf-m
0.001 to 2 Nm
0.01 lbf-in.
0.1 gf-m
0.001 Nm
Clockwise and Counterclockwise
±0.5%
±0.5%
6"
9

1/4

"
13

1/2

"
1

1/2

"
0.813" to 7"
120V AC
Two Prong
5
0000000
00000000
0.01 to 44 lbf-in.
0.1 to 500 gf-m
0.001 to 5 Nm
0.01 lbf-in.
0.1 gf-m
0.001 Nm
Clockwise and Counterclockwise
±0.5%
±0.5%
6"
9

1/4

"
13

1/2

"
1

1/2

"
0.813" to 7"
120V AC
Two Prong
5
0000000
00000000
0.1 to 100 lbf-in.
0.1 to 1,000 gf-m
0.1 to 10 Nm
0.1 lbf-in.
1 gf-m
0.01 Nm
Clockwise and Counterclockwise
±0.5%
±0.5%
6"
9

1/4

"
13

1/2

"
1

1/2

"
0.813" to 7"
120V AC
Two Prong
5
0000000
00000000