Tire Inflator Gauges
Mate these gauges to a compressed air line to measure pressure while inflating tires. They are strong enough to stand up to constant use.
Indicator bar readouts slide out of the top of the gauge to display pressure readings.
Gauges with a 6-ft. or 15-ft. hose let you inflate truck tires from a safe distance. They meet OSHA 29 CFR 1910.177 for sidewall truck tires.
Securely attach gauges with lock-on threads to your valve stem threads, so you don't have to hold the valve stem.
Gauges with a 0.485"-26 air outlet thread size have a large bore chuck head. Use these gauges with construction and heavy equipment that have large bore valves.
Tire Pressure Gauges with Indicator Bar

With One Angled Head

With Two Angled Heads

With Angled Head and Straight Head

With One Straight Head
A bar slides out of the top of these gauges to display pressure reading.
Head
Type
Number
of
Heads
psi
kPa
Numeric


Increments,


psi
Accuracy
Overall


Lg.

Finish
Material
Indicator
Bar
Material
Features
Each
Angled
1
2-20
20-140
1
±1 psi
6"
Nickel Plated
Brass
Plastic
Pocket Clip
0000000
000000
Angled
1
5-50
40-350
1
±2 psi
6"
Nickel Plated
Brass
Plastic
Pocket Clip
0000000
0000
Angled
1
10-70
60-500
2
±2 psi
6"
Nickel Plated
Brass
Plastic
Pocket Clip, Tread Depth Gauge
0000000
00000
Angled
1
20-120
120-820
2
±2 psi
6"
Nickel Plated
Brass
Plastic
Pocket Clip
0000000
0000
Angled
2
10-160
80-1,100
2
±2 psi
12

3/4

"
Nickel Plated
Brass
Plastic
__
0000000
00000
Angled, Straight
2
10-160
80-1,100
2
±2 psi
13

1/4

"
Nickel Plated
Brass
Plastic
__
0000000
00000
Angled, Straight
2
20-120
120-820
2
±2 psi
6

1/2

"
Nickel Plated
Brass
Plastic
Pocket Clip
0000000
00000
Straight
1
5-50
40-350
1
±2 psi
6"
Nickel Plated
Brass
Plastic
Pocket Clip
0000000
0000
Tire Pressure Gauges with Dial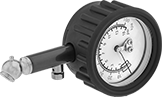 A

B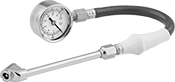 C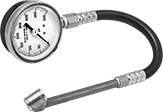 D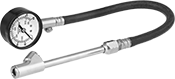 E
Head
Type
Number
of
Heads
psi
kPa
Numeric


Increments,


psi
Accuracy
Overall


Lg.

Dial


Dia.

Finish
Material
Case
Material

Lg.

Material
Each
A
Angled
1
0-15
0-100
0.5
±3%
4

3/4

"
2

1/2

"
Nickel Plated
Brass
Rubber
__
__
0000000
000000
A
Angled
1
0-60
0-400
2
±3%
4

3/4

"
2

1/2

"
Nickel Plated
Brass
Rubber
__
__
0000000
00000
A
Angled
1
0-160
0-1,100
5
±3%
4

3/4

"
2

1/2

"
Nickel Plated
Brass
Rubber
__
__
0000000
00000
B
Straight
1
5-160
__
1
±3%
16

1/2

"
2"
Chrome Plated
Steel
Painted Steel
11"
Rubber
0000000
00000
C
Angled
2
0-60
0-400
1
±3%
20"
2"
Chrome Plated
Brass, Zinc
__
10"
Rubber
00000000
00000
C
Angled
2
0-160
0-1,100
1
±3%
20"
2"
Chrome Plated
Brass, Zinc
__
10"
Rubber
0000000
00000
C
Angled
2
0-300
0-2,060
5
±3%
20"
2"
Chrome Plated
Brass, Zinc
__
10"
Rubber
0000000
00000
D
Angled
2
0-400
__
5
±3%
17"
2

1/2

"
Nickel Plated
Brass
Painted Steel
8"
Rubber
00000000
000000
E
Angled, Straight
2
0-160
0-1,100
5
±3%
23"
2"
Chrome Plated
Brass, Zinc
__
12"
Rubber
00000000
00000
Tire Pressure Gauges with Digital Readout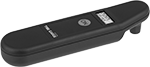 With One Straight Head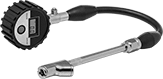 With Angled Head and Straight Head
Head
Type
Number
of
Heads
Pressure


Range,


psi
Numeric


Increments,


psi
Accuracy
Overall


Lg.

Finish
Material
Color

Lg.

Material
Digital
Display
Type
Batteries
Included
Each
Straight
1
3-100
0.5
±1%
5

1/2

"
__
Plastic
__
__
__
LCD
Yes
0000000
000000
Angled, Straight
2
1-160
1
±1%
19

1/2

"
Chrome Plated
Brass
Black
10

1/2

"
Rubber
LCD
Yes
0000000
00000