DFARS (Defense Acquisition Regulations Supplement)

DFARS

(Defense

Acquisition

Regulations

Supplement)
RoHS (Restriction of Hazardous Substances)

RoHS

(Restriction

of
Hazardous

Substances)
About
U-Joints
(Universal Joints)
U-joints are used to connect two shafts that have a high amount of misalignment.
Extreme-Angle

Geared Single

U-Joints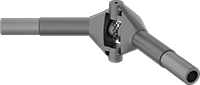 A set of gears transmit rotary motion at angles up to 136°—the widest angle of all our U-joints. Use these joints for hand-powered, low-speed applications. To connect, drill a hole through the joint and shaft and insert a spring pin (not included).
For technical drawings and 3-D models, click on a part number.
Dia.

Dp.

Joint


Dia.

Ht.

Lg.

Max.

Operating
Angle
Speed
Ratio

Max.

Speed

Max.

Torque
Joint
Type
Each

Steel

7/16

"
1

1/8

"

3/4

"
2

3/4

"
10

1/4

"
136°
1:1
Not Rated
Not Rated
Geared
000000
0000000

1/2

"
1

1/8

"

3/4

"
2

3/4

"
10

1/4

"
136°
1:1
Not Rated
Not Rated
Geared
000000
000000

9/16

"
1

1/8

"

3/4

"
2

3/4

"
10

1/4

"
136°
1:1
Not Rated
Not Rated
Geared
000000
000000