About Electric Motors
When replacing a motor, use the information on your motor's nameplate to guide your selection.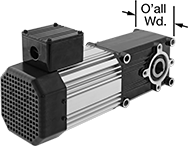 Gearmotor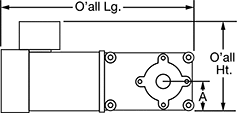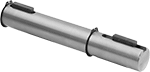 Optional Shaft
A motor and speed reducer in one, these gearmotors have hypoid gears for energy-efficient operation. You can use them to turn a shaft on your equipment or add a keyed shaft (sold separately). Wire for clockwise or counterclockwise rotation; instructions are included. Gearmotors meet IP54 for protection from dust and splashed water. They're inverter rated so you can use them with a motor speed control (not included) to adjust the motor speed.
For technical drawings and 3-D models, click on a part number.
Optional
Keyed Shafts
with Key Stock

Power,


hp
Speed @
Continuous
Operating Torque
Full
Load


Current, A

Lg.

Wd.

Ht.

For
Shaft


Dia.

Shaft
Center
to Base
Environmental
Rating
Each
Each

230 Volts

AC,

Three Phase

1/15

7 rpm @ 470 in.-lbs.
0.39
13"
4"
5

3/4

"

3/4

"
1.91"
IP54

0000000
0000000
0000000
000000

1/8

7 rpm @ 900 in.-lbs.
0.85
13

1/2

"
4

3/4

"
6

1/4

"
1"
2.11"
IP54

0000000
000000
0000000
00000

1/8

14 rpm @ 440 in.-lbs.
0.63
14

3/4

"
4"
5

3/4

"

3/4

"
1.91"
IP54

0000000
000000
0000000
00000

1/8

14 rpm @ 450 in.-lbs.
0.85
13

1/2

"
4

3/4

"
6

1/4

"
1"
2.11"
IP54

0000000
000000
0000000
00000

1/8

28 rpm @ 220 in.-lbs.
0.63
14

3/4

"
4"
5

3/4

"

3/4

"
1.91"
IP54

0000000
000000
0000000
00000

1/8

56 rpm @ 105 in.-lbs.
0.63
14

3/4

"
4"
5

3/4

"

3/4

"
1.91"
IP54

0000000
000000
0000000
00000

1/8

84 rpm @ 73 in.-lbs.
0.63
14

3/4

"
4"
5

3/4

"

3/4

"
1.91"
IP54

0000000
000000
0000000
00000

1/8

168 rpm @ 35 in.-lbs.
0.63
14

3/4

"
4"
5

3/4

"

3/4

"
1.91"
IP54

0000000
000000
0000000
00000

1/5

28 rpm @ 360 in.-lbs.
1.1
15

1/4

"
4

3/4

"
6

1/4

"
1"
2.11"
IP54

0000000
000000
0000000
00000

1/5

42 rpm @ 240 in.-lbs.
1.1
15

1/4

"
4

3/4

"
6

1/4

"
1"
2.11"
IP54

0000000
000000
0000000
00000

1/5

56 rpm @ 180 in.-lbs.
1.1
15

1/4

"
4

3/4

"
6

1/4

"
1"
2.11"
IP54

0000000
000000
0000000
00000

1/5

84 rpm @ 120 in.-lbs.
1.1
15

1/4

"
4

3/4

"
6

1/4

"
1"
2.11"
IP54

0000000
000000
0000000
00000

1/5

168 rpm @ 60 in.-lbs.
1.1
15

1/4

"
4

3/4

"
6

1/4

"
1"
2.11"
IP54

0000000
000000
0000000
00000

1/4

7 rpm @ 1,730 in.-lbs.
1.55
14

1/4

"
5

1/2

"
6

3/4

"
1

1/4

"
2.28"
IP54

0000000
00000000
0000000
00000

1/4

14 rpm @ 871 in.-lbs.
1.55
14

1/4

"
5

1/2

"
6

3/4

"
1

1/4

"
2.28"
IP54

0000000
00000000
0000000
00000

1/2

27 rpm @ 982 in.-lbs.
1.9
13

1/2

"
6"
6

3/4

"
1

1/4

"
2.28"
IP54

0000000
00000000
0000000
00000

1/2

40 rpm @ 655 in.-lbs.
1.9
13

1/2

"
6"
6

3/4

"
1

1/4

"
2.28"
IP54

0000000
00000000
0000000
00000

1/2

53 rpm @ 487 in.-lbs.
1.9
13

1/2

"
6"
6

3/4

"
1

1/4

"
2.28"
IP54

0000000
00000000
0000000
00000

1/2

80 rpm @ 327 in.-lbs.
1.9
13

1/2

"
6"
6

3/4

"
1

1/4

"
2.28"
IP54

0000000
00000000
0000000
00000

1/2

160 rpm @ 168 in.-lbs.
1.9
13

1/2

"
6"
6

3/4

"
1

1/4

"
2.28"
IP54

0000000
00000000
0000000
00000

230/400-460

Volts

AC,

Three Phase

1/8

7 rpm @ 900 in.-lbs.
0.9/0.7-0.6
15

1/4

"
4

3/4

"
6

1/4

"
1"
2.11"
IP54

0000000
000000
0000000
00000

1/8

14 rpm @ 450 in.-lbs.
0.9/0.7-0.6
15

1/4

"
4

3/4

"
6

1/4

"
1"
2.11"
IP54

0000000
000000
0000000
00000

1/5

28 rpm @ 360 in.-lbs.
1.2/0.9-0.8
15

1/4

"
4

3/4

"
6

1/4

"
1"
2.11"
IP54

0000000
000000
0000000
00000

1/5

42 rpm @ 240 in.-lbs.
1.2/0.9-0.8
15

1/4

"
4

3/4

"
6

1/4

"
1"
2.11"
IP54

0000000
000000
0000000
00000

1/5

56 rpm @ 180 in.-lbs.
1.2/0.9-0.8
15

1/4

"
4

3/4

"
6

1/4

"
1"
2.11"
IP54

0000000
000000
0000000
00000

1/5

84 rpm @ 120 in.-lbs.
1.2/0.9-0.8
15

1/4

"
4

3/4

"
6

1/4

"
1"
2.11"
IP54

0000000
000000
0000000
00000

1/5

168 rpm @ 60 in.-lbs.
1.2/0.9-0.8
15

1/4

"
4

3/4

"
6

1/4

"
1"
2.11"
IP54

0000000
000000
0000000
00000

1/4

7 rpm @ 1,730 in.-lbs.
1.25/1-0.9
14

1/4

"
5

1/2

"
6

3/4

"
1

1/4

"
2.28"
IP54

0000000
00000000
0000000
00000

1/4

14 rpm @ 871 in.-lbs.
1.25/1-0.9
14

1/4

"
5

1/2

"
6

3/4

"
1

1/4

"
2.28"
IP54

0000000
00000000
0000000
00000

1/2

27 rpm @ 982 in.-lbs.
1.94/1-0.9
13

1/2

"
6"
6

3/4

"
1

1/4

"
2.28"
IP54

0000000
00000000
0000000
00000

1/2

40 rpm @ 655 in.-lbs.
1.94/1-0.9
13

1/2

"
6"
6

3/4

"
1

1/4

"
2.28"
IP54

0000000
00000000
0000000
00000

1/2

53 rpm @ 487 in.-lbs.
1.94/1-0.9
13

1/2

"
6"
6

3/4

"
1

1/4

"
2.28"
IP54

0000000
00000000
0000000
00000

1/2

80 rpm @ 327 in.-lbs.
1.94/1-0.9
13

1/2

"
6"
6

3/4

"
1

1/4

"
2.28"
IP54

0000000
00000000
0000000
00000

1/2

160 rpm @ 168 in.-lbs.
1.94/1-0.9
13

1/2

"
6"
6

3/4

"
1

1/4

"
2.28"
IP54

0000000
00000000
0000000
00000