Glove Box Mounting Clamps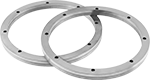 Screw Together Clamp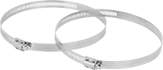 Worm Drive Clamp
Use these clamps to secure gloves to a glove box.
Screw-together clamps include four clamps and mounting fasteners. Use the fasteners and two clamps to secure each glove sleeve to the box; one clamp for the inside of the access holes and one for the outside. These clamps work with one- and two-piece gloves.
Worm drive clamps come with two adjustable clamps, one for each glove access hole. Fold the open end of your glove over a hole extension before securing it with one of these clamps.