Light Duty Work Gloves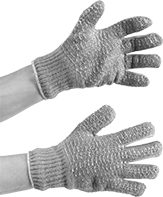 Acrylic/Polyester
with Full
Criss-Cross
Grip
Comfortable and flexible, these fabric gloves are good for parts handling, maintenance, fabrication, and other general purpose applications.
Acrylic/polyester blend gloves provide some warmth and stretch for comfort.
Gloves with grip have a textured surface on one or both sides that provides a secure grip. Full grip gloves are ambidextrous and can be worn on either hand for convenience or to extend use when the grip on one side wears down.
Repetitive-Motion

Open-Finger

Work Gloves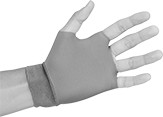 Reduce fatigue during jobs that require you to perform the same hand motions over and over. Designed to cover your hands while leaving your fingertips open to grip objects, these gloves retain body heat to stimulate circulation and keep muscles relaxed. Use them alone or as liners.
Oil-

and

Acid-Resistant

Gloves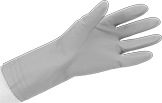 Protect your hands from oil, acids, and scrapes while you're working.
Neoprene/latex blend gloves are flexible and comfortable. They are for lighter duty jobs than neoprene gloves.
Textured gloves provide a better grip than smooth gloves.
Gloves with a flocked cotton fiber lining are easy to take on and off.
Texture
Lining Material

Thick.,


mil

Lg.

Color
For Use With
Choose a Size

1-11

12-Up

Neoprene/Latex

Rubber Blend

Textured
Flocked Cotton Fiber
28
12"
Orange
Acetone, Hydrochloric Acid, Hydrofluoric Acid, Hydrogen Peroxide, Isopropyl Alcohol, Methyl Ethyl Ketone (MEK), Sodium Hydroxide
0000000
00000
00000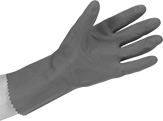 Gloves
Often used for cleaning lab spaces, these gloves withstand most acids, alcohols, and cleaning solutions. They also resist abrasion and offer good dexterity.
Textured gloves provide a better grip than smooth gloves.
Gloves with a flocked cotton fiber lining are easy to take on and off.
Oil-Resistant

Cold-Protection

Gloves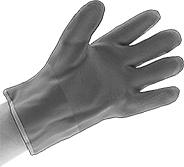 Protect your hands while working with petroleum-based products. These gloves safeguard hands from cold objects as well as cold weather.
Lg.

Cuff
Style
Lining
Material
Color
Glove
Size
Size
Pair

PVC Plastic

12"
Open
Foam
Orange
9
L
000000
00000
Accordion
Two-Piece

Glove Box Gloves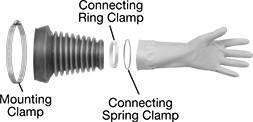 (Mounting Clamp Not Included)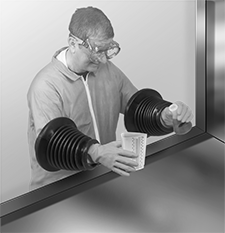 The accordion design prevents the sleeve from collapsing and allows more air circulation. For applications that require frequent glove changes, the sleeves stay connected to the glove box so you can quickly change the size or type of glove being used. Use these gloves in glove boxes to safely handle hazardous substances or avoid contaminating sensitive materials. They fit 8" diameter glove box access holes. Attach gloves to sleeves using the included sleeve-to-glove connecting spring clamp and sleeve-to-glove connecting ring clamp. Attach sleeves to a glove box using glove box mounting clamps (sold separately).
Latex gloves offer the most dexterity of the glove box gloves we carry. They have moderate chemical resistance.
Glove Clips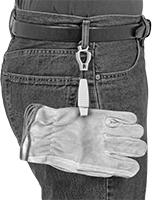 Clip On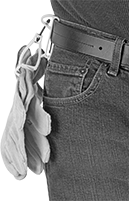 Slide On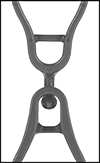 Ball-and-Socket
Safety Breakaway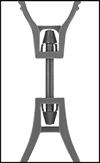 Safety Breakaway
Keep your gloves close at hand. These clips have a safety breakaway feature to prevent wearers from getting snagged by equipment.
Attach clip-on glove clips around belt loops or directly to clothing. Those with a ball-and-socket safety breakaway rotate as you move, allowing the clip and gloves to stay in place. They also have large jaws, which can hold large gloves.
Slip slide-on glove clips over belts, waistbands, and pockets. They hold gloves in a higher position than the clip-on clips, which helps keep them from moving around.