About
Cut-Resistant

Gloves
High-Dexterity

Cut-

and

Puncture-Protection

Gloves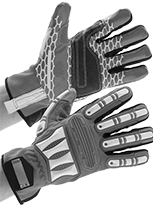 Silicone-Grip
Synthetic Leather
These flexible gloves combine cut resistance with a design that conforms to your hand for improved dexterity. All have reinforced palms to reduce the risk of cuts when handling sharp and pointed objects. They meet the ANSI/ISEA 105 standard, which designates levels of cut resistance based on the force needed to cut through the material of the glove using a razor blade.
Silicone-grip gloves are textured providing a secure grip even when handling slippery objects. They also have bumpers on the back of the gloves to protect your hands from impact when working in confined spaces.
Gloves with open cuffs are more convenient to put on and take off than other gloves.
Size
Glove
Size
S
7
M
8
L
9
XL
10
2XL
11
Cut
Resistance
Texture
Coverage
Pattern

Lg.

Cuff
Style
Color
Features
Specifications
Met
Choose
a
Size
Pair

Silicone-Rubber-Grip

Synthetic Leather

ANSI Level A5
Textured
Palm
Criss Cross
9"
Open
Red/Yellow
Reinforced Palm, Spandex Backing, Knuckle Guard
ANSI/ISEA 105
000000
000000