About
Cut-Resistant

Gloves
About
Flame-Resistant

Arc-Rated

Personal Protection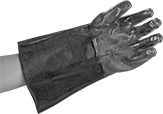 PVA
Often used when cleaning machinery, tools, and other equipment, these gloves withstand harsh solvents and degreasers.
PVA gloves protect against oil-based degreasing solvents as well as ketones and alcohols commonly found in lacquer thinner. They are not designed for use with water-based or alkali-based degreasing products. They have a cotton liner to absorb perspiration.
Surface
Lining Material

Thick.,


mil

Lg.

Color
Size
Pair

PVA Plastic

Smooth
Cotton Fabric
40
14"
Red
XL
0000000
000000
Coated
Cut-Protection

Gloves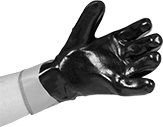 C
The coating on these gloves provides extra protection and wear resistance. All meet the ANSI/ISEA 105 standard, which designates levels of cut resistance based on the force needed to cut through the material of the glove using a razor blade.
Kevlar aramid gloves absorb moisture. Fully coated gloves provide the same protection for the front and back of the hand.
Nitrile-coated gloves are oil resistant and have better abrasion resistance than other coated gloves.
Style C are suitable for working with oily heavy metal parts with sharp, rough edges. They have a smooth surface. Open cuffs make them convenient to put on and take off.
Electrical-Protection

Gloves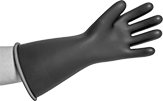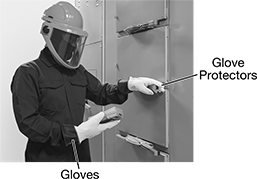 ASTM D120 rated for use when handling live electrical equipment, these gloves come tested and marked with the test date. You have one year from the test date to put gloves into service before they must be retested. Once in use, gloves should be tested every six months. All gloves meet NFPA 70E for protection against arc-flash hazards.
ASTM defines voltage classes for rubber insulating gloves. Before working with electrical equipment, make sure you have the right protection.
Protectors (sold separately) must be worn over gloves for ASTM compliance when working with live electrical equipment. Protectors should be the same size as the gloves they will be worn over. Goatskin protectors cannot be sold to Canada due to import regulations.
Strap your glove to an inspection pump (sold separately) and inflate to check Class 1-4 gloves for cracks, pinholes, and other signs of wear. Purchase an adapter (sold separately) to use the inspection pump with Class 0 and 00 gloves.
Glove Clips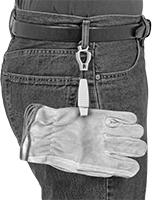 Clip On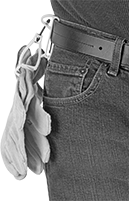 Slide On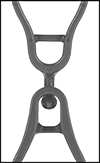 Ball-and-Socket
Safety Breakaway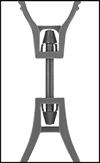 Safety Breakaway
Keep your gloves close at hand. These clips have a safety breakaway feature to prevent wearers from getting snagged by equipment.
Attach clip-on glove clips around belt loops or directly to clothing. Those with a ball-and-socket safety breakaway rotate as you move, allowing the clip and gloves to stay in place. They also have large jaws, which can hold large gloves.
Slip slide-on glove clips over belts, waistbands, and pockets. They hold gloves in a higher position than the clip-on clips, which helps keep them from moving around.