About
Cut-Resistant

Gloves
Coated
Cut-Protection

Gloves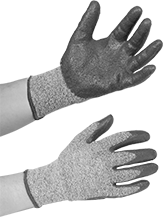 A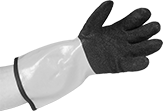 D
The coating on these gloves provides extra protection and wear resistance. All meet the ANSI/ISEA 105 standard, which designates levels of cut resistance based on the force needed to cut through the material of the glove using a razor blade.
Kevlar aramid gloves absorb moisture. Dyneema gloves are thinner, more breathable, and more form fitting than Kevlar gloves.
Palm-coated gloves have an uncoated back side that makes the gloves more comfortable and breathable. Fully coated gloves provide the same protection for the front and back of the hand.
Nitrile-coated gloves are oil resistant and have better abrasion resistance than other coated gloves. PVC-coated gloves provide a good grip in dry as well as wet and oily conditions.
Style A provide cut protection without hindering dexterity. A textured surface provides added grip. For a secure fit, they have a knit cuff.
Style D have a longer cuff for additional forearm protection. An open cuff style makes them convenient to put on and take off. For additional grip, they have a textured surface.
Size
Glove
Size
XS
6
S
7
M
8
L
9
XL
10
2XL
11
Cut
Resistance
Surface
Material
Coverage

Lg.

Cuff
Style
Color
Specifications
Met
Choose
a
Size

1-11

12-Up

Kevlar Aramid Fabric

ANSI Level A2
Textured
Nitrile Rubber
Palm
9

3/4

"
Knit
Yellow/Black
ANSI/ISEA 105
00000000
000000
00000

Dyneema Fabric

ANSI Level A4
Textured
PVC Plastic
Full
14"
Open
Yellow/Black
ANSI/ISEA 105
0000000
00000
00000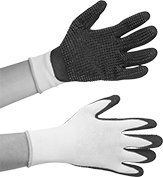 Acrylic with Nitrile Grip
Designed for intermittent handling of hot pipes, engine parts, and castings, these gloves protect your hands from moderate heat and some abrasion. Holding heavy objects may decrease temperature rating.
Acrylic with nitrile grip gloves have a textured surface that helps you grasp glass, slippery plastics, and oily machine parts.
Use gloves with knit cuffs for a secure fit.