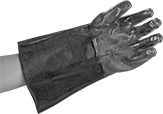 PVA
Often used when cleaning machinery, tools, and other equipment, these gloves withstand harsh solvents and degreasers.
PVA gloves protect against oil-based degreasing solvents as well as ketones and alcohols commonly found in lacquer thinner. They are not designed for use with water-based or alkali-based degreasing products. They have a cotton liner to absorb perspiration.
Surface
Lining Material

Thick.,


mil

Lg.

Color
Size
Pair

PVA Plastic

Smooth
Cotton Fabric
40
14"
Red
XL
0000000
000000
Chemical-Resistant

Sleeves

Use these sleeves alone or with gloves to protect your arm from oils and most acids.
Neoprene-coated nylon sleeves resist the most chemicals of the sleeves we carry.
Nitrile-coated polyester sleeves are the best choice for handling petroleum-based substances such as gasoline and xylene. They have a nitrile coating on the inside and outside.