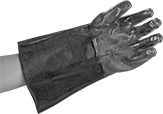 PVA
Often used when cleaning machinery, tools, and other equipment, these gloves withstand harsh solvents and degreasers.
PVA gloves protect against oil-based degreasing solvents as well as ketones and alcohols commonly found in lacquer thinner. They are not designed for use with water-based or alkali-based degreasing products. They have a cotton liner to absorb perspiration.
Texture
Lining Material

Thick.,


mil

Lg.

Color
Size
Pair

PVA Plastic

Smooth
Cotton Fabric
40
14"
Red
XL
0000000
000000
Chemical-Resistant

Sleeves

Use these sleeves alone or with gloves to protect your arm from oils and most acids.
Neoprene-coated nylon sleeves resist the most chemicals of the sleeves we carry.
Nitrile-coated polyester sleeves are the best choice for handling petroleum-based substances such as gasoline and xylene. They have a nitrile coating on the inside and outside.
Glove Bags
More flexible and portable than glove boxes, these glove bags are temporary enclosures that protect you while you work with hazardous or unknown material and isolate the material from outside air and moisture. They come with built-in gloves to shield your hands and prevent hand oils from getting inside. All have one or two zipper openings for depositing material and equipment. They collapse for storage and are sturdy enough to be used again, but replace them if they become contaminated.
Polyethylene bags have a tubing connector for inflating them with a gas supply. They come with polyethylene gloves, which resist ozone and many oxidizing chemicals. For extra protection, there are also cotton liner gloves.
Polyethylene Plastic Bags with Polyethylene Plastic Gloves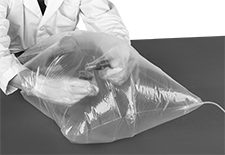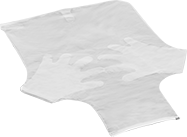 Polyethylene Bag with Polyethylene Gloves and One Opening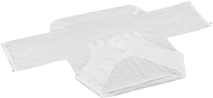 Polyethylene Bag with Polyethylene Gloves and Two Openings
Number
of
Openings
Opening
Width
Height
Width
Depth

Thickness,


mil
Glove
Size
Closure
Type
Maximum


Temperature,




°F

Includes
Each
1
10"
11"
17"
17"
3
9
Zipper
200°

3/8

" Tubing Connector, Cotton Liner Gloves
0000000
000000
1
10"
12"
20"
20"
3
9
Zipper
200°

3/8

" Tubing Connector, Cotton Liner Gloves
0000000
00000
1
10"
14"
30"
20"
3
9
Zipper
200°

3/8

" Tubing Connector, Cotton Liner Gloves
0000000
000000
1
18

3/4

"
12"
27"
17"
3
9
Zipper
200°

3/8

" Tubing Connector, Cotton Liner Gloves
0000000
00000
1
22

1/2

"
15"
27"
27"
3
9
Zipper
200°

3/8

" Tubing Connector, Cotton Liner Gloves
0000000
000000
1
33

1/2

"
18"
37"
27"
3
9
Zipper
200°

3/8

" Tubing Connector, Cotton Liner Gloves
0000000
000000
1
33

1/2

"
25"
37"
37"
3
9
Zipper
200°

3/8

" Tubing Connector, Cotton Liner Gloves
0000000
000000
2
10"
12"
20"
20"
3
9
Zipper
200°

3/8

" Tubing Connector, Cotton Liner Gloves
0000000
000000
2
10"
14"
30"
20"
3
9
Zipper
200°

3/8

" Tubing Connector, Cotton Liner Gloves
0000000
000000