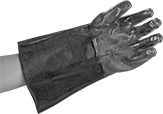 PVA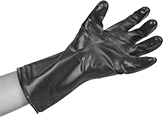 Fluoroelastomer
Often used when cleaning machinery, tools, and other equipment, these gloves withstand harsh solvents and degreasers.
PVA gloves protect against oil-based degreasing solvents as well as ketones and alcohols commonly found in lacquer thinner. They are not designed for use with water-based or alkali-based degreasing products. They have a cotton liner to absorb perspiration.
Fluoroelastomer gloves withstand water-based solvents, chlorinated solvents, and aromatics (toluene and xylene) better than other gloves we carry.
Ultra-Thin

Chemical-Resistant

Gloves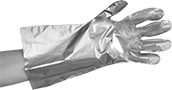 Gloves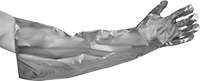 Gloves with Sleeve
Wear as a liner or over other gloves to protect against esters as well as aromatic, chlorinated, and oxygenated solvents such as ketones and alcohols. Commonly used to handle spill cleanup, these silver-film gloves are a blend of polyethylene and EVOH (ethylene vinyl alcohol).