About
Cut-Resistant

Gloves
About
Flame-Resistant

Arc-Rated

Personal Protection
Disposable Gloves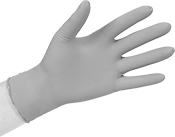 Nitrile,
Neoprene,
and Latex
These single-use gloves prevent cross contamination and provide the dexterity needed for intricate work.
Chemical-resistant gloves protect against incidental chemical contact such as spills and splashes.
Nitrile gloves are a good alternative for those concerned with latex allergies.
Textured gloves provide a better grip than smooth gloves.
Powder-free gloves are good for applications where particulate contamination is a concern. FDA-compliant gloves are suitable for direct contact with food.
Texture

Thick.,


mil

Lg.

Color
Specifications Met
Size

Pkg.




Qty.

1-5

6-Up

Chemical-Resistant

Gloves

Nitrile

Rubber—

Powder Free

Textured
5

1/2

12"
Blue
FDA Compliant 21 CFR 177.2600

3XL
40
000000000
000000
000000
High-Dexterity

Cold-

and

Cut-Protection

Gloves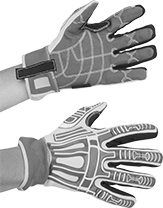 These flexible gloves conform to your hand for improved dexterity, even when working in cold weather or handling cold objects. They are rated for cut resistance to guard hands from sharp objects. All are insulated, windproof, and waterproof. They meet ANSI/ISEA 138, which measures a glove's ability to dissipate impact force on the knuckles and fingers. Guards on the back of the gloves protect your hands from impact when working in confined spaces. All have knit cuffs for a comfortable yet secure fit. Their fluorescent backing makes them easy to spot.
Cut
Resistance
Lining Material

Lg.

Cuff
Style
Color

Min.




Temp.,

°F

Features
Specifications
Met
Size
Pair

High-Visibility

and

Impact-Resistant

Gloves

Synthetic Leather

ANSI Level A3
Polypropylene Fiber
11"
Knit
Red/Fluorescent Yellow
Not Rated
Knuckle Guards; Reinforced Palm and Fingers
ANSI/ISEA 138
3XL
000000
000000
Electrical-Protection

Gloves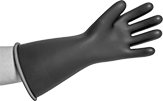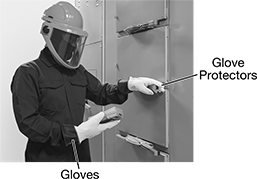 ASTM D120 rated for use when handling live electrical equipment, these gloves come tested and marked with the test date. You have one year from the test date to put gloves into service before they must be retested. Once in use, gloves should be tested every six months. All gloves meet NFPA 70E for protection against arc-flash hazards.
ASTM defines voltage classes for rubber insulating gloves. Before working with electrical equipment, make sure you have the right protection.
Wear-indicating gloves have a colored inner layer that shows through the coating as it wears off, making it easy to inspect them for signs of wear such as cracks and pinholes.
Protectors (sold separately) must be worn over gloves for ASTM compliance when working with live electrical equipment. Protectors should be the same size as the gloves they will be worn over. Goatskin protectors cannot be sold to Canada due to import regulations.
Strap your glove to an inspection pump (sold separately) and inflate to check Class 1-4 gloves for cracks, pinholes, and other signs of wear. Purchase an adapter (sold separately) to use the inspection pump with Class 0 and 00 gloves.
One-Piece

Glove Box Gloves

(Mounting Clamp Not Included)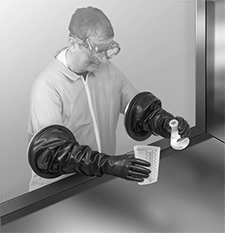 Seamless one-piece construction provides maximum strength and integrity. Use these gloves in glove boxes to safely handle hazardous substances or avoid contaminating sensitive materials. Attach them to a glove box using glove box mounting clamps (sold separately).
Neoprene gloves are for applications that require more chemical resistance and durability than latex gloves.