Disposable Gloves

Polyethylene with Sleeve
These single-use gloves prevent cross contamination and provide the dexterity needed for intricate work.
Polyethylene gloves are loose-fitting to quickly slip on and off. They're commonly used in food preparation. Gloves with sleeve are extra-long to extend up to your shoulder, protecting arms as well as hands. They're often used in agricultural applications for handling large bags of feed or examining livestock.
Textured-surface gloves provide a better grip than smooth gloves.
Powder-free gloves are good for applications where particulate contamination is a concern.
Surface

Thick.,


mil

Lg.

Color
Size

Pkg.




Qty.

1-5

6-Up

Gloves

Polyethylene Plastic With

Sleeve—

Powder Free

Textured
2
35"
Clear
L
100
0000000
000000
000000
Personal Protection Packs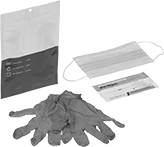 Keep these packs on hand and you'll always be prepared with a disposable face mask, rubber gloves, and wipes whenever you need them. All have a resealable pouch, which secures the contents and limits cross contamination. The masks and gloves are latex-free, so they're good for those who are sensitive to latex. Choose from single-use packs or larger packs that allow multiple changes throughout the day.
Made of 3-ply fabric, the masks protect you from dust, particles, and germs that may cause illness. They're lightweight and easy to breathe through, so you can comfortably wear them for long periods of time. Elastic ear loops make them easy to slip on and off. All of the masks meet ASTM F2100, which means they're good for general purpose use in dry environments, and filter at least 95% of bacteria and airborne particles down to 0.1 micron.
Use the gloves to keep your hands protected from bacteria and germs that could cause illness. Made of durable nitrile rubber, they resist rips and tears. All meet strict European Union safety standards for personal protection equipment.
Use the wipes to kill bacteria, viruses, and germs from surfaces. Moistened with a 60% isopropyl alcohol solution, they come individually bagged to prevent them from drying out.
Coverage
Closure
Type
Material
Specifications
Met
Coverage
Material

Thick.,


mil

Lg.

Specifications
Met

Lg.

Wd.

Active
Ingredient
Concentration
Each

1 Disposable

Mask,

1 Pair of Disposable

Gloves,

and 2 Wipes in a Resealable Pouch

Half Face
Elastic
Fabric
ASTM F2100
Full Hand
Nitrile Rubber
2
9

1/2

"
EN 420, EN 455
7

3/8

"
6

3/4

"
Isopropyl Alcohol
60%
0000000
00000

3 Disposable

Masks,

3 Pairs of Disposable

Gloves,

and 5 Wipes in a Resealable Pouch

Half Face
Elastic
Fabric
ASTM F2100
Full Hand
Nitrile Rubber
2
9

1/2

"
EN 420, EN 455
7

3/8

"
6

3/4

"
Isopropyl Alcohol
60%
0000000
00000

20 Disposable

Masks,

5 Pairs of Disposable

Gloves,

and 10 Wipes in a Resealable Pouch

Half Face
Elastic
Fabric
ASTM F2100
Full Hand
Nitrile Rubber
2
9

1/2

"
EN 420, EN 455
7

3/8

"
6

3/4

"
Isopropyl Alcohol
60%
0000000
00000