Disposable Gloves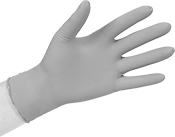 Nitrile,
Neoprene,
and Latex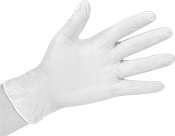 PVC
These single-use gloves prevent cross contamination and provide the dexterity needed for intricate work.
Chemical-resistant gloves protect against incidental chemical contact such as spills and splashes.
Neoprene gloves are durable and resist tears, chemical spills, and splashes better than any other disposable glove we offer.
PVC gloves are an economical choice for applications that require a moderate amount of dexterity and durability.
Textured gloves provide a better grip than smooth gloves.
Powdered gloves are easy to pull on and off. Powder-free gloves are good for applications where particulate contamination is a concern. FDA-compliant gloves are suitable for direct contact with food.
Size
Glove
Size
XS
6
S
7
M
8
L
9
XL
10