Disposable Gloves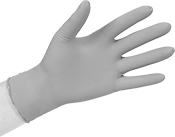 Nitrile,
Neoprene,
and Latex
These single-use gloves prevent cross contamination and provide the dexterity needed for intricate work.
Chemical-resistant gloves protect against incidental chemical contact such as spills and splashes.
Nitrile gloves are a good alternative for those concerned with latex allergies.
Textured-surface gloves provide a better grip than smooth gloves.
Gloves with an aloe liner moisturize the skin to soothe dry hands and prevent chapping.
FDA-compliant gloves are suitable for direct contact with food.