Disposable Gloves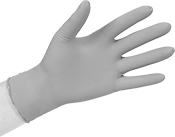 Nitrile,
Neoprene,
and Latex
These single-use gloves prevent cross contamination and provide the dexterity needed for intricate work.
Chemical-resistant gloves protect against incidental chemical contact such as spills and splashes.
Nitrile gloves are a good alternative for those concerned with latex allergies.
Powdered gloves are easy to pull on and off. FDA-compliant gloves are suitable for direct contact with food.
Disposable Sleeves

Use these sleeves alone or with gloves to protect your arms.
Vinyl sleeves protect against chemical spills and splashes.
Material

Thick.,


mil

Lg.

Color
Size
Contains
Latex

Pkg.

Qty.

Pkg.

Chemical-Resistant

Sleeves

Vinyl Plastic

8
18"
Clear
One Size
Yes
12 Pairs
00000000
000000