Vapor-

and

Acid-Resistant

Gloves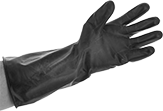 Smooth
More impermeable to gas and vapors than other chemical-resistant gloves we carry, these resist esters, ketones (such as acetone), highly corrosive acids, and other hazardous substances.
Chemical-Resistant

Sleeves

Use these sleeves alone or with gloves to protect your arm from oils and most acids.
Neoprene-coated nylon sleeves resist the most chemicals of the sleeves we carry.
Material
Coating Material
Coating
Coverage

Thick.,


mil

Lg.

Cuff
Style
Color
Size
Pair
Nylon Fabric
Neoprene Rubber
Full
13
18"
Elastic
Yellow
One Size
0000000
000000