Vapor-

and

Acid-Resistant

Gloves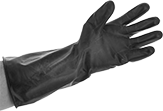 Smooth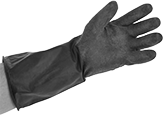 Textured
More impermeable to gas and vapors than other chemical-resistant gloves we carry, these resist esters, ketones (such as acetone), highly corrosive acids, and other hazardous substances.
Textured gloves provide a better grip than smooth gloves.
Chemical-Resistant

Sleeves

Use these sleeves alone or with gloves to protect your arm from oils and most acids.
SBR-coated polyester sleeves withstand corrosive materials such as hydrofluoric acid.
Nitrile-coated polyester sleeves are the best choice for handling petroleum-based substances such as gasoline and xylene. They have a nitrile coating on the inside and outside.