Oil-

and

Acid-Resistant

Gloves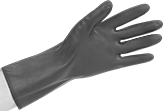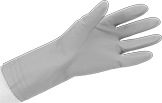 Protect your hands from oil, acids, and scrapes while you're working.
Neoprene-coated latex gloves have a multi-layer construction that provides better protection against tears and pinholes than most single-layer gloves. Suitable for light duty jobs, they deteriorate faster than neoprene gloves.
Neoprene/latex blend gloves are flexible and comfortable. They are for lighter duty jobs than neoprene gloves.
Wear-indicating gloves have a yellow, blue, or red inner layer that shows through as the coating wears off, making it easy to inspect for cracks, pinholes, and other signs of wear.
Textured-surface gloves provide a better grip than smooth gloves.
Gloves with a flocked cotton fiber lining are easy to take on and off.
Surface
Lining Material

Thick.,


mil

Lg.

Color
For Use With
Features
Choose a Size

1-11

12-Up

Neoprene-Rubber-Coated

Latex Rubber

Textured
Flocked Cotton Fiber
28
12"
Blue
Acetone, Hydrochloric Acid, Hydrofluoric Acid, Hydrogen Peroxide, Isopropyl Alcohol, Methyl Ethyl Ketone (MEK), Sodium Hydroxide
Wear Indicator
0000000
00000
00000

Neoprene/Latex

Rubber Blend

Textured
Flocked Cotton Fiber
28
12"
Orange
Acetone, Hydrochloric Acid, Hydrofluoric Acid, Hydrogen Peroxide, Isopropyl Alcohol, Methyl Ethyl Ketone (MEK), Sodium Hydroxide
__
0000000
0000
0000