Disposable Gloves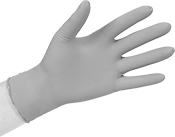 Nitrile,
Neoprene,
and Latex
These single-use gloves prevent cross contamination and provide the dexterity needed for intricate work.
Chemical-resistant gloves protect against incidental chemical contact such as spills and splashes.
Nitrile gloves are a good alternative for those concerned with latex allergies.
Latex gloves are the most form fitting. They're good for jobs that require tactile precision.
Textured gloves provide a better grip than smooth gloves.
Powder-free gloves are good for applications where particulate contamination is a concern. FDA-compliant gloves are suitable for direct contact with food.
Size
Glove
Size
XS
6
S
7
M
8
L
9
XL
10
2XL
11
Texture

Thick.,


mil

Lg.

Color
Specifications Met
Choose a Size

Pkg.




Qty.

1-5

6-Up

Chemical-Resistant

Gloves

Nitrile

Rubber—

Powder Free

Textured
4

1/2

9"
Black
FDA Compliant 21 CFR 177.2600

100
00000000
000000
000000
Textured
4

1/2

9"
Blue
FDA Compliant 21 CFR 177.2600

100
00000000
00000
00000
Textured
4

1/2

12"
Blue
FDA Compliant 21 CFR 177.2600

50
00000000
00000
00000
Textured
4

1/2

9"
Black
FDA Compliant 21 CFR 177.2600

100
0000000
00000
00000