Disposable Gloves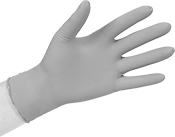 Nitrile,
Neoprene,
and Latex
These single-use gloves prevent cross contamination and provide the dexterity needed for intricate work.
Chemical-resistant gloves protect against incidental chemical contact such as spills and splashes.
Nitrile gloves are a good alternative for those concerned with latex allergies.
Textured gloves provide a better grip than smooth gloves.
Powder-free gloves are good for applications where particulate contamination is a concern. FDA-compliant gloves are suitable for direct contact with food.
Size
Glove
Size
S
7
M
8
L
9
XL
10
2XL
11
3XL
12
Texture

Thick.,


mil

Lg.

Color
Specifications Met
Choose a Size

Pkg.




Qty.

1-5

6-Up

Chemical-Resistant

Gloves

Nitrile

Rubber—

Powder Free

Textured
5

1/2

9"
White
FDA Compliant 21 CFR 177.2600

100
00000000
000000
000000
Textured
5

1/2

12"
Blue
FDA Compliant 21 CFR 177.2600

50
00000000
00000
00000
Textured
5

1/2

12"
Blue
FDA Compliant 21 CFR 177.2600

3XL
40
000000000
00000
00000
Disposable Sleeves

Use these sleeves alone or with gloves to protect your arms.
Tyvek polyethylene sleeves are made of heat- and pressure-bonded olefin fibers that form a barrier that's soft yet strong and abrasion resistant. They resist liquid splashes, but are not recommended for continuous liquid exposure.
Material

Thick.,


mil

Lg.

Color
Size
Contains
Latex

Pkg.

Qty.

Pkg.

Sleeves

Tyvek Polyethylene Fabric
5

1/2

18"
White
One Size
No
10 Pairs
0000000
000000