Close
About Character Width
The width of a character is typically one-half its height. Narrower characters, such as 1 or A will be less, while M or W will be more.
About Paint and Ink Markers
Paint markers work well even on dirty, rusty, wet, and oily surfaces. They leave textured marks you can feel with your hand.
Ink markers work best on a clean, dry surface. Marks dry faster than paint and are smooth to the touch.
Both paint and ink markers are permanent.
Glow-in-the-Dark

Paint Crayons

Paint stores energy from exposure to light to create luminescent marks you can see in the dark. These paint crayons work well even on dirty, rusty, and oily surfaces. They cannot be sold to Canada due to local chemical regulations.
Stroke


Wd.,

mm
Drying


Time,

min.

For
Use On
Application


Temp.




Range,

°F

Color
Cannot
Be
Sold To
Each

Ultra Bold

13
10
Ceramic, Fabric, Glass, Metal, Plastic, Wood
20° to 240°
Fluorescent Yellow
Canada
000000
000000
Glow-in-the-Dark

Floor Marking Arrow Tape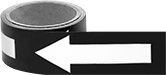 Direct traffic and identify safety zones in the dark for up to six hours.
Glow-in-the-Dark

Adhesive-Back

Characters

Expose these characters to ambient light and they stay visible in the dark. Choose the characters you need from 0-9 and A-Z.
For technical drawings and 3-D models, click on a part number.
Character


Ht.

Material
For
Use
Outdoors
Choose
a
Character
Character
Color

Pkg.




Qty.

Pkg.

1"
Polyester Plastic

No
White
10
0000000
00000
2"
Polyester Plastic

No
White
10
0000000
00000
3"
Polyester Plastic

No
White
10
0000000
00000
4"
Polyester Plastic

No
White
5
0000000
00000