About Structural Adhesives
Epoxy Structural Adhesives for Harsh Environments
With excellent resistance to corrosive chemicals and salt water, these epoxies work in tough conditions. Epoxies are the strongest structural adhesives. Choose an adhesive that hardens quickly for fast repairs, or one that hardens slowly to allow more time for positioning.
The size listed is the combined total of the two parts.
9430 bonds dissimilar materials and resists fuel and hydraulic fluid.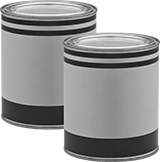 No.

Size
Type
Begins
to
Harden
Reaches
Full
Strength

Shear,




lbs./sq.




in.

Peel,




lbs./in.




wd.

Mix
Ratio
Consistency


(Viscosity)

Temp.




Range,




°F

Color
Environment
For
Joining
Each

Loctite® Adhesives

9430
32 fl. oz.
Can
50 min.
5 days
4,230
60
3.78:1
Thick Liquid (12,000 cP)
-65° to 180°
Off-White
Corrosive, Salt Spray, Submersible
Metal, Metal to Plastic, Metal to Rubber, Plastic, Plastic to Rubber, Rubber
00000000
0000000
9430
1.25 gal.
Can
50 min.
5 days
4,230
60
3.78:1
Thick Liquid (12,000 cP)
-65° to 180°
Off-White
Corrosive, Salt Spray, Submersible
Metal, Metal to Plastic, Metal to Rubber, Plastic, Plastic to Rubber, Rubber
00000000
000000