Electrical Steel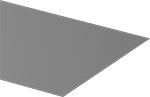 Grain Oriented
Yield

Strength:

45,

000 psi

Hardness:

Rockwell B95

Heat

Treatable:

No
Containing 3% silicon, this electrical steel forms the laminated cores of electromagnetic devices to improve performance. It's extremely thin, reducing energy loss for better overall efficiency. An ASTM A976 C5 coating insulates this steel to reduce heat loss. It meets IEC 60404-8-8, an international standard for thin electrical steel sheets.
The silicon-iron crystals in grain-oriented steel all point in the optimal direction for high permeability and low core loss. It's more energy efficient than non-grain-oriented steel, so it's better for use in transformers or cores in high-voltage direct current (HVDC) transmission systems. Grain-oriented steel is not for use in rotating machinery with a changing direction of magnetic flux.
For technical drawings and 3-D models, click on a part number.

Certificates with a traceable lot number are available for these products. Download certificates from ORDER HISTORY after your order ships.