High-Strength

Grade 5 Titanium Sheets and Bars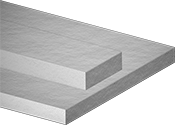 Yield

Strength:

120,

000 psi

Hardness:

Rockwell C30

(Hard)

Temper

Rating:

Softened

(Annealed)

Specifications

Met:

ASTM B265
Grade 5 is the strongest of all the titanium alloys thanks to its higher aluminum and vanadium content. It offers a versatile mix of good corrosion resistance, weldability, and formability. It's often used for turbine blades, fasteners, and spacer rings.
For technical drawings and 3-D models, click on a part number.

Certificates with a traceable lot number are available for these products. Download certificates from ORDER HISTORY after your order ships.
Thick.

Thick.

Tolerance
Mechanical
Finish
Flatness
Tolerance
Each
0.016"
-0.002" to 0.002"
Ground

1/2

" per 36"
0000000
000000
0.032"
-0.004" to 0.004"
Ground

1/2

" per 36"
0000000
000000
0.063"
-0.005" to 0.005"
Ground

1/2

" per 36"
0000000
000000

1/8

"
-0.008" to 0.008"
Ground

1/2

" per 36"
0000000
000000
0.016"
-0.002" to 0.002"
Ground

1/2

" per 36"
0000000
000000
0.032"
-0.004" to 0.004"
Ground

1/2

" per 36"
0000000
000000
0.063"
-0.005" to 0.005"
Ground

1/2

" per 36"
0000000
000000

1/8

"
-0.008" to 0.008"
Ground

1/2

" per 36"
0000000
000000
0.016"
-0.002" to 0.002"
Ground

1/2

" per 36"
0000000
000000
0.032"
-0.004" to 0.004"
Ground

1/2

" per 36"
0000000
000000
0.063"
-0.005" to 0.005"
Ground

1/2

" per 36"
0000000
000000

1/8

"
-0.008" to 0.008"
Ground

1/2

" per 36"
0000000
00000000
0.016"
-0.002" to 0.002"
Ground

1/2

" per 36"
0000000
000000
0.032"
-0.004" to 0.004"
Ground

1/2

" per 36"
0000000
00000000
0.063"
-0.005" to 0.005"
Ground

1/2

" per 36"
000000
00000000

1/8

"
-0.008" to 0.008"
Ground

1/2

" per 36"
0000000
00000000
0.016"
-0.002" to 0.002"
Ground

1/2

" per 36"
0000000
00000000
0.032"
-0.004" to 0.004"
Ground

1/2

" per 36"
0000000
00000000
0.063"
-0.005" to 0.005"
Ground

1/2

" per 36"
0000000
00000000

1/8

"
-0.008" to 0.008"
Ground

1/2

" per 36"
0000000
00000000
Wd.

Mechanical
Finish
Straightness
Tolerance

1/2

ft.




Lg.

1 ft.




Lg.

3 ft.




Lg.

1/8"

Thick.

(-0.01" to 0.01" Tolerance)

1/2

"
Ground

1/8

" per 5 ft.
0000000
1"
Ground

1/8

" per 5 ft.
0000000
2"
Ground

1/8

" per 5 ft.
0000000
3"
Ground

1/8

" per 5 ft.
0000000

1/4"

Thick.

(-0.01" to 0.046" Tolerance)

1/2

"
Ground

1/8

" per 5 ft.
0000000
1"
Ground

1/8

" per 5 ft.
0000000
2"
Ground

1/8

" per 5 ft.
0000000
3"
Ground

1/8

" per 5 ft.
0000000

1/2"

Thick.

(-0.01" to 0.045" Tolerance)

3"
Ground

1/8

" per 5 ft.
0000000

3/4"

Thick.

(-0.01" to 0.06" Tolerance)

3/4

"
Ground

1/8

" per 5 ft.
0000000
1"
Ground

1/8

" per 5 ft.
0000000