About Carbon
Steel,

Alloy

Steel,

Spring

Steel,

and Cast Iron
Hardened
High-Strength

A514 Alloy Steel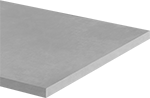 Yield

Strength:

100,

000 psi

Hardness:

Rockwell C20

(Hard)

Specifications

Met:

ASTM A514
Heat treated for enhanced hardness and strength, A514 alloy steel is suitable for structural applications and supporting heavy loads. Also known as high-strength low-alloy (HSLA) steel.
For technical drawings and 3-D models, click on a part number.

Certificates with a traceable lot number are available for these products. Download certificates from ORDER HISTORY after your order ships.