About Carbon
Steel,

Alloy

Steel,

Spring

Steel,

and Cast Iron
Easy-to-Weld

A572 Alloy Steel Sheets and Bars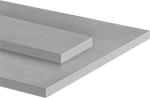 Yield

Strength:

50,

000 psi

Hardness:

Rockwell B75

(Medium)

Maximum Hardness After Heat

Treatment:

Not Rated
Specifications

Met:

ASTM A572
Combining strength with weldability and formability, A572 alloy steel is an economical choice for structural components, such as channels, beams, and framing. It has a low carbon content, making it easy to weld with a variety of welding methods. Stronger than other low-carbon steels, such as A36 steel, it handles heavy loads without fracturing. Tested using ASTM A572, these sheets and bars are safe for jobs that require a yield strength of 50,000 psi or less.
For technical drawings and 3-D models, click on a part number.

Certificates with a traceable lot number are available for these products. Download certificates from ORDER HISTORY after your order ships.