About Carbon
Steel,

Alloy

Steel,

Spring

Steel,

and Cast Iron
Wear-Resistant

AR400 Carbon Steel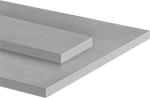 Yield

Strength:

See table

Hardness:

Rockwell C40

(Hard)

Specifications

Met:

See table
The nickel and molybdenum content gives AR400 carbon steel the ability to resist wear better than all other carbon steel. It's often used as wear strips, liners, and deflector plates.
For technical drawings and 3-D models, click on a part number.

Certificates with a traceable lot number are available for these products. Download certificates from ORDER HISTORY after your order ships.
Thick.

Thick.

Tolerance
Yield
Strength

Heat
Treatment
Specifications
Met
Each

1/8

"
-0.01" to 0.03"
Not Rated
Hardened
ASTM A6
00000000
000000

3/16

"
-0.01" to 0.03"
Not Rated
Hardened
ASTM A6
00000000
00000

1/4

"
-0.01" to 0.03"
Not Rated
Hardened
ASTM A6
00000000
00000

3/8

"
-0.01" to 0.03"
Not Rated
Hardened
ASTM A6
00000000
00000

1/2

"
-0.01" to 0.03"
Not Rated
Hardened
ASTM A6
00000000
00000

3/4

"
-0.01" to 0.03"
Not Rated
Hardened
ASTM A6
00000000
00000
1"
-0.01" to 0.03"
Not Rated
Hardened
ASTM A6
00000000
00000

1/8

"
-0.01" to 0.03"
Not Rated
Hardened
ASTM A6
00000000
00000

3/16

"
-0.01" to 0.03"
Not Rated
Hardened
ASTM A6
00000000
00000

1/4

"
-0.01" to 0.03"
Not Rated
Hardened
ASTM A6
00000000
00000

3/8

"
-0.01" to 0.03"
Not Rated
Hardened
ASTM A6
00000000
00000

1/2

"
-0.01" to 0.03"
Not Rated
Hardened
ASTM A6
00000000
00000

3/4

"
-0.01" to 0.03"
Not Rated
Hardened
ASTM A6
00000000
00000
1"
-0.01" to 0.03"
Not Rated
Hardened
ASTM A6
00000000
00000

1/8

"
-0.01" to 0.03"
Not Rated
Hardened
ASTM A6
00000000
00000

3/16

"
-0.01" to 0.03"
Not Rated
Hardened
ASTM A6
00000000
00000

1/4

"
-0.01" to 0.03"
Not Rated
Hardened
ASTM A6
00000000
00000

3/8

"
-0.01" to 0.03"
Not Rated
Hardened
ASTM A6
00000000
00000

1/2

"
-0.01" to 0.03"
Not Rated
Hardened
ASTM A6
00000000
000000

3/4

"
-0.01" to 0.03"
Not Rated
Hardened
ASTM A6
00000000
000000
1"
-0.01" to 0.03"
Not Rated
Hardened
ASTM A6
00000000
000000

1/8

"
-0.01" to 0.03"
Not Rated
Hardened
ASTM A6
00000000
000000

3/16

"
-0.01" to 0.03"
Not Rated
Hardened
ASTM A6
00000000
000000

1/4

"
-0.01" to 0.03"
Not Rated
Hardened
ASTM A6
00000000
000000

3/8

"
-0.01" to 0.03"
Not Rated
Hardened
ASTM A6
00000000
000000

1/2

"
-0.01" to 0.03"
Not Rated
Hardened
ASTM A6
00000000
000000

3/4

"
-0.01" to 0.03"
Not Rated
Hardened
ASTM A6
00000000
000000
1"
-0.01" to 0.03"
Not Rated
Hardened
ASTM A6
00000000
000000

1/8

"
-0.01" to 0.03"
Not Rated
Hardened
ASTM A6
0000000
000000

3/16

"
-0.01" to 0.03"
Not Rated
Hardened
ASTM A6
0000000
000000

1/4

"
-0.01" to 0.03"
Not Rated
Hardened
ASTM A6
0000000
000000

3/8

"
-0.01" to 0.03"
Not Rated
Hardened
ASTM A6
0000000
000000

1/2

"
-0.01" to 0.03"
Not Rated
Hardened
ASTM A6
0000000
000000

3/4

"
-0.01" to 0.03"
Not Rated
Hardened
ASTM A6
0000000
000000
1"
-0.01" to 0.03"
Not Rated
Hardened
ASTM A6
0000000
000000
Thick.

Thick.

Tolerance
Yield


Strength,

psi

Heat
Treatment

1 ft.

Lg.

3 ft.

Lg.

6 ft.

Lg.

1/4

"
-0.02" to 0.02"
140,000
Hardened
0000000

3/8

"
-0.02" to 0.02"
140,000
Hardened
0000000

1/2

"
-0.02" to 0.02"
140,000
Hardened
0000000

1/4

"
-0.02" to 0.02"
140,000
Hardened
0000000

3/8

"
-0.02" to 0.02"
140,000
Hardened
0000000

1/2

"
-0.02" to 0.02"
140,000
Hardened
0000000

1/4

"
-0.02" to 0.02"
140,000
Hardened
0000000

3/8

"
-0.02" to 0.02"
140,000
Hardened
0000000

1/2

"
-0.02" to 0.02"
140,000
Hardened
0000000

1/4

"
-0.02" to 0.02"
140,000
Hardened
0000000

3/8

"
-0.02" to 0.02"
140,000
Hardened
0000000

1/2

"
-0.02" to 0.02"
140,000
Hardened
0000000