About Stair Tread Covers and Nosing
Stair Tread Covers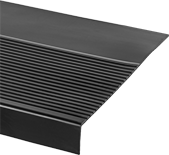 C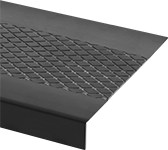 D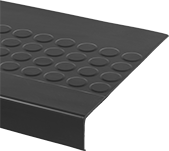 E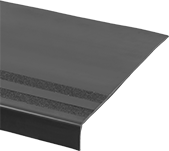 F
Protect stairs from wear or provide a new stair surface on worn stairs. Covers fit square-nose concrete and wood stairs.
Styles C-F are durable rubber for high-traffic areas. To install, use construction adhesive (sold separately). Style F have abrasive strips for added traction.
For technical drawings and 3-D models, click on a part number.
Floor Tiles

Often used in stairwells and hallways, these tiles have a raised-disc surface that provides traction and is easy to clean. Tile remains flexible at low temperatures. Install with epoxy adhesive (sold separately).
Wd.

Lg.

Thick.

For Use
Outdoors
Choose a Color
Each

Raised Disc

Rubber

24"
24"

5/32

"
No
0000000
000000
| | | | |
| --- | --- | --- | --- |
| Epoxy Adhesive (1 gal. Can) | 0000000 | Each | 0000000 |
ADA-Compliant

Warning Tiles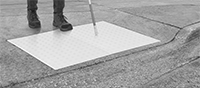 Tile Shown Installed and in Use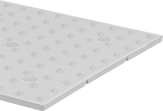 Yellow

With a raised disc surface that can be felt with feet and canes, these tiles alert individuals with visual impairments to an upcoming intersection or an edge of a walkway. Often used on sidewalks, ramps, entryways, and pedestrian crossings, all of these tiles are slip resistant and won't corrode or fade if exposed to harsh outdoor conditions. They comply with the Americans with Disabilities Act (ADA) for accessible design and the Public Right-of-Way Accessibility Guidelines (PROWAG) for detectable warnings on public walking surfaces.
Urethane tiles are flexible, so they'll bend to conform to curves, dips, slopes, and inclines on uneven walkways. In addition to absorbing hard impacts without cracking better than fiberglass-reinforced polyester tiles, they're also easier to cut for a custom fit.
Install adhesive tiles on top of existing dry concrete with included adhesive and concrete anchors. They're quicker and easier to install than set-in-concrete tiles.
For technical drawings and 3-D models, click on a part number.
Width
Length
Thickness
Edge
Profile
Mounting
Hardware Included
For Use
Outdoors
Specifications
Met
Each
Each

Urethane

Adhesive Tiles for Straight Curb

24"
36"

5/64

"
Flat
Yes
Yes
ADA Compliant, PROWAG Compliant
0000000
0000000
0000000
0000000
24"
60"

5/64

"
Flat
Yes
Yes
ADA Compliant, PROWAG Compliant
0000000
000000
0000000
000000