Grease Fitting Assortments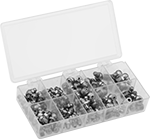 Assortments contain straight, 45° elbow, and 90° elbow fittings. These fittings are also known as hydraulic grease fittings.
Zinc-plated steel fittings have mild corrosion resistance. 18-8 stainless steel fittings are more corrosion resistant than steel fittings.
PTF (Dryseal) threads are compatible with NPT threads. SAE-LT threads are tapered but designed to be installed into a 1/4"-28 straight-thread UNF hole.
For technical drawings and 3-D models, click on a part number.
Number
of Pieces
Material
Includes
Gender

Max.




Pressure,

psi
Each
8
Zinc-Plated Steel
4 Each

1/4

"-28 SAE-LT Straight Grease Fittings
2 Each

1/4

"-28 SAE-LT 45° Elbow Grease Fittings
2 Each

1/4

"-28 SAE-LT 90° Elbow Grease Fittings
Male
7,000
000000
00000
8
Zinc-Plated Steel
4 Each

1/8

PTF Straight Grease Fittings
2 Each

1/8

PTF 90° Elbow Grease Fittings
2 Each

1/8

PTF 45° Elbow Grease Fittings
Male
10,000
000000
0000
44
Zinc-Plated Steel
10 Each M6 × 1 mm Straight Grease Fittings
6 Each M6 × 1 mm 45° Elbow Grease Fittings
6 Each M6 × 1 mm 90° Elbow Grease Fittings
6 Each M8 × 1 mm Straight Grease Fittings
6 Each M8 × 1 mm 90° Elbow Grease Fittings
10 Each M10 × 1 mm Straight Grease Fittings
Plastic Case
Male
10,000
00000000
00000
44
18-8 Stainless Steel
10 Each M6 × 1 mm Straight Grease Fittings
6 Each M6 × 1 mm 45° Elbow Grease Fittings
6 Each M6 × 1 mm 90° Elbow Grease Fittings
6 Each M8 × 1 mm Straight Grease Fittings
6 Each M8 × 1 mm 90° Elbow Grease Fittings
10 Each M10 × 1 mm Straight Grease Fittings
Plastic Case
Male
10,000
00000000
000000
48
Zinc-Plated Steel
12 Each

1/8

PTF Straight Grease Fittings
6 Each

1/8

PTF 45° Elbow Grease Fittings
6 Each

1/8

PTF 90° Elbow Grease Fittings
12 Each

1/4

"-28 SAE-LT Straight Grease Fittings
6 Each

1/4

"-28 SAE-LT 45° Elbow Grease Fittings
6 Each

1/4

"-28 SAE-LT 90° Elbow Grease Fittings
Plastic Case
Male
10,000
000000
00000
50
Zinc-Plated Steel
30 Each

1/8

PTF Straight Grease Fittings
10 Each

1/8

PTF 45° Elbow Grease Fittings
10 Each

1/8

PTF 90° Elbow Grease Fittings
Plastic Case
Male
10,000
0000000
00000
50
Zinc-Plated Steel
30 Each

1/4

"-28 SAE-LT Straight Grease Fittings
10 Each

1/4

"-28 SAE-LT 45° Elbow Grease Fittings
10 Each

1/4

"-28 SAE-LT 90° Elbow Grease Fittings
Plastic Case
Male
10,000
0000000
00000
50
18-8 Stainless Steel
30 Each

1/8

PTF Straight Grease Fittings
10 Each

1/8

PTF 45° Elbow Grease Fittings
10 Each

1/8

PTF 90° Elbow Grease Fittings
Plastic Case
Male
10,000
0000000
000000
50
18-8 Stainless Steel
30 Each

1/4

"-28 SAE-LT Straight Grease Fittings
10 Each

1/4

"-28 SAE-LT 45° Elbow Grease Fittings
10 Each

1/4

"-28 SAE-LT 90° Elbow Grease Fittings
Plastic Case
Male
10,000
0000000
000000
90
Zinc-Plated Steel
30 Each M6 × 1 mm Straight Grease Fittings
10 Each M6 × 1 mm 45° Elbow Grease Fittings
10 Each M6 × 1 mm 90° Elbow Grease Fittings
10 Each M8 × 1 mm Straight Grease Fittings
5 Each M8 × 1 mm 45° Elbow Grease Fittings
5 Each M8 × 1 mm 90° Elbow Grease Fittings
10 Each M10 × 1 mm Straight Grease Fittings
5 Each M10 × 1 mm 45° Elbow Grease Fittings
5 Each M10 × 1 mm 90° Elbow Grease Fittings
Plastic Case
Male
5,000
000000
00000
100
Zinc-Plated Steel
30 Each

1/8

PTF Straight Grease Fittings
10 Each

1/8

PTF 45° Elbow Grease Fittings
10 Each

1/8

PTF 90° Elbow Grease Fittings
30 Each

1/4

"-28 SAE-LT Straight Grease Fittings
10 Each

1/4

"-28 SAE-LT 45° Elbow Grease Fittings
10 Each

1/4

"-28 SAE-LT 90° Elbow Grease Fittings
Plastic Case
Male
5,000
000000
00000
100
Zinc-Plated Steel
10 Each M6 × 1 mm Straight Grease Fittings
5 Each M6 × 1 mm 45° Elbow Grease Fittings
5 Each M6 × 1 mm 90° Elbow Grease Fittings
10 Each M8 × 1 mm Straight Grease Fittings
10 Each M8 × 1.25 mm Straight Grease Fittings
5 Each M8 × 1 mm 45° Elbow Grease Fittings
5 Each M8 × 1 mm 90° Elbow Grease Fittings
5 Each M8 × 1.25 mm 45° Elbow Grease Fittings
5 Each M8 × 1.25 mm 90° Elbow Grease Fittings
10 Each M10 × 1 mm Straight Grease Fittings
10 Each M10 × 1.5 mm Straight Grease Fittings
5 Each M10 × 1 mm 45° Elbow Grease Fittings
5 Each M10 × 1.5 mm 45° Elbow Grease Fittings
5 Each M10 × 1 mm 90° Elbow Grease Fittings
5 Each M10 × 1.5 mm 90° Elbow Grease Fittings
Plastic Case
Male
8,000
0000000
00000
136
Zinc-Plated Steel
40 Each

1/8

PTF Straight Grease Fittings
8 Each

1/8

PTF 45° Elbow Grease Fittings
8 Each

1/8

PTF 90° Elbow Grease Fittings
60 Each

1/4

"-28 SAE-LT Straight Grease Fittings
10 Each

1/4

"-28 SAE-LT 45° Elbow Grease Fittings
10 Each

1/4

"-28 SAE-LT 90° Elbow Grease Fittings
Plastic Case
Male
10,000
0000000
00000
136
18-8 Stainless Steel
40 Each

1/8

PTF Straight Grease Fittings
8 Each

1/8

PTF 45° Elbow Grease Fittings
8 Each

1/8

PTF 90° Elbow Grease Fittings
60 Each

1/4

"-28 SAE-LT Straight Grease Fittings
10 Each

1/4

"-28 SAE-LT 45° Elbow Grease Fittings
10 Each

1/4

"-28 SAE-LT 90° Elbow Grease Fittings
Plastic Case
Male
10,000
0000000
000000
375
Zinc-Plated Steel
55 Each

1/8

PTF Straight Grease Fittings
25 Each

1/8

PTF 30° Elbow Grease Fittings
25 Each

1/8

PTF 45° Elbow Grease Fittings
25 Each

1/8

PTF 65° Elbow Grease Fittings
25 Each

1/8

PTF 90° Elbow Grease Fittings
25 Each

1/4

PTF Straight Grease Fittings
25 Each

1/4

PTF 67.5° Elbow Grease Fittings
120 Each

1/4

"-28 SAE-LT Straight Grease Fittings
25 Each

1/4

"-28 SAE-LT 45° Elbow Grease Fittings
25 Each

1/4

"-28 SAE-LT 90° Elbow Grease Fittings
Plastic Case
Male
10,000
0000000
000000