About Grease Fitting Threads
Grease Fitting Manifolds

Inlet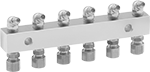 Lubricate multiple points from a single location. Dispense grease into the grease fittings. Use the compression fittings on the outlets to connect tubing (not included) between the grease fittings and lubrication points.
Zinc-plated steel manifolds have mild corrosion resistance. 303 stainless steel manifolds are more corrosion resistant than zinc-plated steel manifolds and have good chemical resistance.
For technical drawings and 3-D models, click on a part number.
Number
of Inlets
Number
of Outlets
For NLGI
Viscosity Grade
For Tube
OD
Overall


Wd.

Overall


Dp.

Overall


Ht.

Max.




Pressure,

psi
Each
3
3
00, 0, 1, 2

1/4

"
2

3/4

"

3/4

"
2

3/4

"
1,800
000000
000000
6
6
00, 0, 1, 2

1/4

"
5

3/4

"

3/4

"
2

3/4

"
1,800
000000
000000
10
10
00, 0, 1, 2

1/4

"
9

3/4

"

3/4

"
2

1/2

"
10,000
000000
000000

303 Stainless Steel

3
3
00, 0, 1, 2

1/4

"
2

3/4

"

3/4

"
2

1/2

"
5,000
000000
000000
6
6
00, 0, 1, 2

1/4

"
5

3/4

"

3/4

"
2

1/2

"
5,000
000000
000000
10
10
00, 0, 1, 2

1/4

"
9

3/4

"

3/4

"
2

1/2

"
5,000
000000
000000