Food Industry Seal and
O-Ring

Grease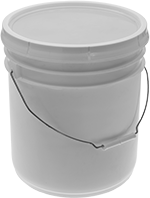 This grease meets NSF/ANSI Standard 51 and FDA 21 CFR 175.300 for direct contact with food and NSF/ANSI Standard 61 for use with components that come into contact with drinking water. Formulated with silica thickener and silicone, it resists washing away and has excellent resistance to wear. Apply directly to seals and O-rings to prevent drying and cracking.
NLGI viscosity grade is a rating of a grease's consistency. NLGI 3-4 is between the consistencies of vegetable shortening and frozen yogurt.
Grease lubricates most efficiently within the listed temperature range.
Each
NLGI
Viscosity
Grade
Base
Oil
Additive
Size
Net
Weight
Type

Temp.




Range,




°F

Melting


Temp.

Color
Specifications
Met
Each

DuPont Molykote 111

Compound—

Silica Thickener

3-4
Synthetic
Silicone
5.3 fl. oz.
__
Tube
-40° to 395°
Not Rated
White
FDA Compliant 21 CFR 175.300, NSF/ANSI 51, NSF/ANSI 61
0000000
000000
3-4
Synthetic
Silicone
14 fl. oz.
__
Grease Gun Cartridge
-40° to 395°
Not Rated
White
FDA Compliant 21 CFR 175.300, NSF/ANSI 51, NSF/ANSI 61
0000000
00000
3-4
Synthetic
Silicone
__
8 lbs.
Pail
-40° to 395°
Not Rated
White
FDA Compliant 21 CFR 175.300, NSF/ANSI 51, NSF/ANSI 61
0000000
000000
Package
NLGI
Viscosity
Grade
Base
Oil
Additive
Size
Net
Weight
Type

Temp.




Range,




°F

Melting


Temp.

Color
Specifications
Met

Pkg.




Qty.

Pkg.

DuPont Molykote 111

Compound—

Silica Thickener

3-4
Synthetic
Silicone
__
0.2 oz.
One-Time-Use Pack
-40° to 395°
Not Rated
White
FDA Compliant 21 CFR 175.300, NSF/ANSI 51, NSF/ANSI 61
100
00000000
0000000
3-4
Synthetic
Silicone
5.3 fl. oz.
__
Tube
-40° to 395°
Not Rated
White
FDA Compliant 21 CFR 175.300, NSF/ANSI 51, NSF/ANSI 61
12
00000000
000000
3-4
Synthetic
Silicone
14 fl. oz.
__
Grease Gun Cartridge
-40° to 395°
Not Rated
White
FDA Compliant 21 CFR 175.300, NSF/ANSI 51, NSF/ANSI 61
10
00000000
000000