Dremel Electric and Cordless Straight Grinder Kits
Grind, sand, finish, and polish with these versatile kits.
They come with a light duty Dremel grinder that accepts a multitude of accessories. Grinders have a shaft lock for easy tool changes.
Caution: Use only accessories that have a greater rpm rating than the maximum speed of the grinder you choose.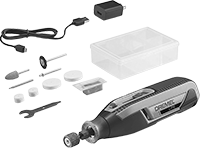 Cordless
Manufacturer
Model


No.

Max.




Speed,


rpm
For
Shank


Dia.

Switch
Type
Speed
Control
Type
Batteries
Included

O'all




Lg.

Wt.,




lbs.

Specifications
Met
Includes
Each
7760-N/10
25,000

1/32

",

1/16

",

3/32

",

1/8

"
Push Button
Variable
Yes
7

1/2

"
1

1/2

CSA Certified

Light Duty Grinder, 2.75-Hour Charger, 10 Assorted Accessories
00000000
000000
8220-1/28
35,000

1/32

",

1/16

",

3/32

",

1/8

"
Slide
Variable
Yes
6"
1

1/2

CSA Certified

28 Assorted Accessories, 1-Hour Charger, Cutting Guide Attachment, Light Duty Grinder, Plastic Storage Case
0000000
000000
Battery-Powered

Plastic Pipe and Tube Bevelers
Lightweight and portable, these battery-powered bevelers cut faster than manual ones. Use them to quickly and safely create smooth beveled edges on plastic pipe and tubing so that cement distributes evenly for a leak-tight connection. An adjustable guide plate helps you cut an accurate, even edge all the way around the pipe. The OD guard protects you from the router bit and flying plastic shavings.