Long-Life

Grinding Wheels for Angle

Grinders—

Use on Metals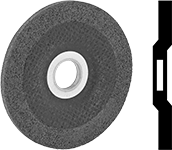 Wheels are a blend of aluminum oxide and zirconia alumina, which removes more material and lasts three times as long as our General Purpose Grinding Wheels. They are also known as Type 27 wheels, raised-hub wheels, and grinding discs.
Wheels are designed for grinding metal surfaces and removing weld seams. The 1/8" thick wheels can also be used for notching and cutting.
Caution: Use only accessories that have a greater rpm rating than the maximum speed of the grinder you choose.
For technical drawings and 3-D models, click on a part number.
Dia.

Thick.

Arbor
Hole
Size
Arbor Hole
Thread
Size

Max.




Speed,


rpm
Abrasive
Material
Abrasive
Bond
Material
Type
Shape
Backup
Pads
Required
Color
Grit


(Surface Texture)

Each

Each

For

Steel,

Stainless

Steel,

Iron

Unthreaded Arbor Hole

4"

1/8

"

3/8

"
__
15,280
Aluminum Oxide/ Zirconia Alumina Blend
Synthetic Resin
Type 27
Raised Hub
No
Black
30 (Rough)
00000000
00000
4"

1/4

"

3/8

"
__
15,280
Aluminum Oxide/ Zirconia Alumina Blend
Synthetic Resin
Type 27
Raised Hub
No
Black
24 (Rough)
00000000
0000
4"

1/4

"

5/8

"
__
15,280
Aluminum Oxide/ Zirconia Alumina Blend
Synthetic Resin
Type 27
Raised Hub
No
Black
24 (Rough)
00000000
0000
4

1/2

"

1/8

"

7/8

"
__
13,580
Aluminum Oxide/ Zirconia Alumina Blend
Synthetic Resin
Type 27
Raised Hub
No
Black
30 (Rough)
00000000
0000
4

1/2

"

1/4

"

7/8

"
__
13,580
Aluminum Oxide/ Zirconia Alumina Blend
Synthetic Resin
Type 27
Raised Hub
No
Black
24 (Rough)
00000000
0000
5"

1/8

"

7/8

"
__
12,225
Aluminum Oxide/ Zirconia Alumina Blend
Synthetic Resin
Type 27
Raised Hub
No
Black
30 (Rough)
00000000
0000
5"

1/4

"

7/8

"
__
12,225
Aluminum Oxide/ Zirconia Alumina Blend
Synthetic Resin
Type 27
Raised Hub
No
Black
24 (Rough)
00000000
0000
6"

1/8

"

7/8

"
__
10,000
Aluminum Oxide/ Zirconia Alumina Blend
Synthetic Resin
Type 27
Raised Hub
No
Black
30 (Rough)
00000000
00000
6"

1/4

"

7/8

"
__
10,000
Aluminum Oxide/ Zirconia Alumina Blend
Synthetic Resin
Type 27
Raised Hub
No
Black
24 (Rough)
00000000
0000
7"

1/8

"

7/8

"
__
8,600
Aluminum Oxide/ Zirconia Alumina Blend
Synthetic Resin
Type 27
Raised Hub
No
Black
30 (Rough)
00000000
0000
7"

1/4

"

7/8

"
__
8,600
Aluminum Oxide/ Zirconia Alumina Blend
Synthetic Resin
Type 27
Raised Hub
No
Black
24 (Rough)
00000000
00000
9"

1/8

"

7/8

"
__
6,600
Aluminum Oxide/ Zirconia Alumina Blend
Synthetic Resin
Type 27
Raised Hub
No
Black
30 (Rough)
00000000
00000
9"

1/4

"

7/8

"
__
6,600
Aluminum Oxide/ Zirconia Alumina Blend
Synthetic Resin
Type 27
Raised Hub
No
Black
24 (Rough)
00000000
00000

Threaded Arbor Hole

4

1/2

"

1/8

"
__
5/8"-11

13,580
Aluminum Oxide/ Zirconia Alumina Blend
Synthetic Resin
Type 27
Raised Hub
No
Black
30 (Rough)
00000000
0000
4

1/2

"

1/4

"
__
5/8"-11

13,580
Aluminum Oxide/ Zirconia Alumina Blend
Synthetic Resin
Type 27
Raised Hub
No
Black
24 (Rough)
00000000
0000
5"

1/8

"
__
5/8"-11

12,000
Aluminum Oxide/ Zirconia Alumina Blend
Synthetic Resin
Type 27
Raised Hub
No
Black
30 (Rough)
00000000
0000
5"

1/4

"
__
5/8"-11

12,225
Aluminum Oxide/ Zirconia Alumina Blend
Synthetic Resin
Type 27
Raised Hub
No
Black
24 (Rough)
00000000
00000
6"

1/8

"
__
5/8"-11

10,000
Aluminum Oxide/ Zirconia Alumina Blend
Synthetic Resin
Type 27
Raised Hub
No
Black
24 (Rough)
00000000
00000
6"

1/4

"
__
5/8"-11

10,000
Aluminum Oxide/ Zirconia Alumina Blend
Synthetic Resin
Type 27
Raised Hub
No
Black
24 (Rough)
00000000
00000
7"

1/8

"
__
5/8"-11

8,600
Aluminum Oxide/ Zirconia Alumina Blend
Synthetic Resin
Type 27
Raised Hub
No
Black
30 (Rough)
00000000
00000
7"

1/4

"
__
5/8"-11

8,600
Aluminum Oxide/ Zirconia Alumina Blend
Synthetic Resin
Type 27
Raised Hub
No
Black
24 (Rough)
00000000
00000
9"

1/8

"
__
5/8"-11

6,600
Aluminum Oxide/ Zirconia Alumina Blend
Synthetic Resin
Type 27
Raised Hub
No
Black
30 (Rough)
00000000
00000
9"

1/4

"
__
5/8"-11

6,600
Aluminum Oxide/ Zirconia Alumina Blend
Synthetic Resin
Type 27
Raised Hub
No
Black
24 (Rough)
00000000
00000

Pkg.

Package

For

Steel,

Stainless

Steel,

Iron

Unthreaded Arbor Hole

4"

1/8

"

3/8

"
__
15,280
Aluminum Oxide/ Zirconia Alumina Blend
Synthetic Resin
Type 27
Raised Hub
No
Black
30 (Rough)
000000000
000000
4"

1/4

"

3/8

"
__
15,280
Aluminum Oxide/ Zirconia Alumina Blend
Synthetic Resin
Type 27
Raised Hub
No
Black
24 (Rough)
000000000
000000
4"

1/4

"

5/8

"
__
15,280
Aluminum Oxide/ Zirconia Alumina Blend
Synthetic Resin
Type 27
Raised Hub
No
Black
24 (Rough)
000000000
000000
4

1/2

"

1/8

"

7/8

"
__
13,580
Aluminum Oxide/ Zirconia Alumina Blend
Synthetic Resin
Type 27
Raised Hub
No
Black
30 (Rough)
000000000
000000
4

1/2

"

1/4

"

7/8

"
__
13,580
Aluminum Oxide/ Zirconia Alumina Blend
Synthetic Resin
Type 27
Raised Hub
No
Black
24 (Rough)
000000000
000000
5"

1/8

"

7/8

"
__
12,225
Aluminum Oxide/ Zirconia Alumina Blend
Synthetic Resin
Type 27
Raised Hub
No
Black
30 (Rough)
000000000
000000
5"

1/4

"

7/8

"
__
12,225
Aluminum Oxide/ Zirconia Alumina Blend
Synthetic Resin
Type 27
Raised Hub
No
Black
24 (Rough)
000000000
000000
6"

1/8

"

7/8

"
__
10,000
Aluminum Oxide/ Zirconia Alumina Blend
Synthetic Resin
Type 27
Raised Hub
No
Black
30 (Rough)
000000000
000000
6"

1/4

"

7/8

"
__
10,000
Aluminum Oxide/ Zirconia Alumina Blend
Synthetic Resin
Type 27
Raised Hub
No
Black
24 (Rough)
000000000
000000
7"

1/8

"

7/8

"
__
8,600
Aluminum Oxide/ Zirconia Alumina Blend
Synthetic Resin
Type 27
Raised Hub
No
Black
30 (Rough)
000000000
000000
7"

1/4

"

7/8

"
__
8,600
Aluminum Oxide/ Zirconia Alumina Blend
Synthetic Resin
Type 27
Raised Hub
No
Black
24 (Rough)
000000000
000000
9"

1/8

"

7/8

"
__
6,600
Aluminum Oxide/ Zirconia Alumina Blend
Synthetic Resin
Type 27
Raised Hub
No
Black
30 (Rough)
000000000
000000
9"

1/4

"

7/8

"
__
6,600
Aluminum Oxide/ Zirconia Alumina Blend
Synthetic Resin
Type 27
Raised Hub
No
Black
24 (Rough)
000000000
000000

Threaded Arbor Hole

4

1/2

"

1/8

"
__
5/8"-11

13,580
Aluminum Oxide/ Zirconia Alumina Blend
Synthetic Resin
Type 27
Raised Hub
No
Black
30 (Rough)
000000000
00000
4

1/2

"

1/4

"
__
5/8"-11

13,580
Aluminum Oxide/ Zirconia Alumina Blend
Synthetic Resin
Type 27
Raised Hub
No
Black
24 (Rough)
000000000
00000
5"

1/8

"
__
5/8"-11

12,000
Aluminum Oxide/ Zirconia Alumina Blend
Synthetic Resin
Type 27
Raised Hub
No
Black
30 (Rough)
000000000
00000
5"

1/4

"
__
5/8"-11

12,225
Aluminum Oxide/ Zirconia Alumina Blend
Synthetic Resin
Type 27
Raised Hub
No
Black
24 (Rough)
000000000
00000
6"

1/8

"
__
5/8"-11

10,000
Aluminum Oxide/ Zirconia Alumina Blend
Synthetic Resin
Type 27
Raised Hub
No
Black
24 (Rough)
000000000
000000
6"

1/4

"
__
5/8"-11

10,000
Aluminum Oxide/ Zirconia Alumina Blend
Synthetic Resin
Type 27
Raised Hub
No
Black
24 (Rough)
000000000
000000
7"

1/8

"
__
5/8"-11

8,600
Aluminum Oxide/ Zirconia Alumina Blend
Synthetic Resin
Type 27
Raised Hub
No
Black
30 (Rough)
000000000
000000
7"

1/4

"
__
5/8"-11

8,600
Aluminum Oxide/ Zirconia Alumina Blend
Synthetic Resin
Type 27
Raised Hub
No
Black
24 (Rough)
000000000
000000
9"

1/8

"
__
5/8"-11

6,600
Aluminum Oxide/ Zirconia Alumina Blend
Synthetic Resin
Type 27
Raised Hub
No
Black
30 (Rough)
000000000
000000
9"

1/4

"
__
5/8"-11

6,600
Aluminum Oxide/ Zirconia Alumina Blend
Synthetic Resin
Type 27
Raised Hub
No
Black
24 (Rough)
000000000
000000