Arbor Hole Thread Size

Arbor Hole Thread Size
Backup Pads Required

Backup Pads Required
DFARS (Defense Acquisition Regulations Supplement)

DFARS

(Defense

Acquisition

Regulations

Supplement)
Maximum Speed

Maximum Speed
Number of Cutters

Number of Cutters
REACH (Registration, Evaluation, Authorization and Restriction of Chemicals)

REACH

(Registration,




Evaluation,

Authorization
and Restriction of

Chemicals)
RoHS (Restriction of Hazardous Substances)

RoHS

(Restriction

of
Hazardous

Substances)
Paint Removal Attachments for Angle Grinders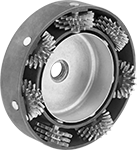 Use on 7" and 9" angle grinders and sanders to remove paint, rust, and scale from hard surfaces.
Attachments have hardened-steel cutting discs and a built-in safety guard.
Caution: Use only accessories that have a greater rpm rating than the maximum speed of the grinder you choose.
For technical drawings and 3-D models, click on a part number.