Warning: Products have one, but not necessarily all, of the selected characteristics.
Arbor Hole Shape

Arbor Hole Shape
Maximum Speed

Maximum Speed

Abrasive Material

Abrasive Material
DFARS (Defense Acquisition Regulations Supplement)

DFARS

(Defense

Acquisition
Regulations

Supplement)
Portable Cutoff Saw Wheels for Ductile Cast Iron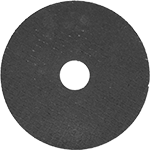 Side View
These wheels have a blend of aluminum oxide and silicon carbide abrasives for cutting ductile cast iron. They are reinforced with a layer of fiberglass mesh.
Warning: Use wheels that have a greater rpm rating than the no-load rpm of your tool.
Thick.

Arbor
Hole
Size

Max.




Speed,


rpm
Type
Shape
Abrasive
Reinforcement
Grit
Each

1/8

"
1", 20 mm
6,300
Type 1
Straight
Aluminum Oxide/Silicon Carbide Blend
Fiberglass Mesh
24
0000000
00000

1/8

"
1"
5,400
Type 1
Straight
Aluminum Oxide/Silicon Carbide Blend
Fiberglass Mesh
24
0000000
00000

1/8

"
20 mm
5,460
Type 1
Straight
Aluminum Oxide/Silicon Carbide Blend
Fiberglass Mesh
24
0000000
00000

1/8

"
1"
4,800
Type 1
Straight
Aluminum Oxide/Silicon Carbide Blend
Fiberglass Mesh
24
0000000
00000