Nylon Mesh Cushioned Sanding Discs with Shank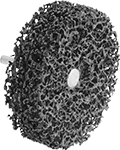 Silicon Carbide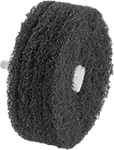 Aluminum Oxide
Multiple layers of abrasive-embedded nylon mesh conform to tight spots and internal surfaces. Secure the shank into the collet or chuck of your tool.
Extra coarse grade is for heavy stripping and shaping.
Medium grade is for moderate deburring and cleaning.
Fine grade is for light cleaning, blending, and finishing.
Very fine grade is for polishing and final finishing.
For technical drawings and 3-D models, click on a part number.
Dia.

Wd.

Shank


Dia.

Max.




Speed,

rpm
Color
Abrasive Material
For Use On
Each

Extra

Coarse—

For Rough Finish

2"
1"

1/4

"
16,000
Black
Silicon Carbide
Steel, Wood
00000000
000000
3"

1/2

"

1/4

"
10,500
Black
Silicon Carbide
Steel, Wood
0000000
00000
3"
1"

1/4

"
10,500
Black
Silicon Carbide
Steel, Wood
0000000
00000
4"

1/2

"

1/4

"
8,000
Black
Silicon Carbide
Steel, Wood
0000000
0000
4"
1"

1/4

"
8,000
Black
Silicon Carbide
Steel, Wood
0000000
00000
1"

3/8

"

1/8

"
20,000
Maroon
Aluminum Oxide
Steel, Wood
0000000
0000
1"

1/2

"

1/8

"
20,000
Maroon
Aluminum Oxide
Steel, Wood
0000000
0000
1

1/2

"

7/8

"

1/8

"
13,000
Maroon
Aluminum Oxide
Steel, Wood
0000000
0000
1

1/2

"
1"

1/8

"
13,000
Maroon
Aluminum Oxide
Steel, Wood
0000000
0000
2"
1"

1/4

"
12,000
Maroon
Aluminum Oxide
Steel, Wood
00000000
0000
2

3/8

"
2"

1/4

"
12,000
Maroon
Aluminum Oxide
Steel, Wood
00000000
00000
3"

1/2

"

1/4

"
8,000
Maroon
Aluminum Oxide
Steel, Wood
00000000
0000
3"
1"

1/4

"
8,000
Maroon
Aluminum Oxide
Steel, Wood
00000000
00000
3"
2"

1/4

"
8,000
Maroon
Aluminum Oxide
Steel, Wood
00000000
00000
4"

1/2

"

1/4

"
6,000
Maroon
Aluminum Oxide
Steel, Wood
00000000
00000
4"
1"

1/4

"
6,000
Maroon
Aluminum Oxide
Steel, Wood
00000000
00000
5"
1"

1/4

"
4,000
Maroon
Aluminum Oxide
Steel, Wood
00000000
00000

Fine—

For Extra Smooth Finish

1"

3/8

"

1/8

"
20,000
Maroon
Aluminum Oxide
Steel, Wood
0000000
0000
1"

1/2

"

1/8

"
20,000
Maroon
Aluminum Oxide
Steel, Wood
0000000
0000
1

1/2

"

7/8

"

1/8

"
13,000
Maroon
Aluminum Oxide
Steel, Wood
0000000
0000
1

1/2

"
1"

1/8

"
13,000
Maroon
Aluminum Oxide
Steel, Wood
0000000
0000
2"
1"

1/4

"
12,000
Maroon
Aluminum Oxide
Steel, Wood
00000000
0000
2

3/8

"
2"

1/4

"
12,000
Maroon
Aluminum Oxide
Steel, Wood
00000000
00000
3"

1/2

"

1/4

"
8,000
Maroon
Aluminum Oxide
Steel, Wood
00000000
0000
3"
1"

1/4

"
8,000
Maroon
Aluminum Oxide
Steel, Wood
00000000
00000
3"
2"

1/4

"
8,000
Maroon
Aluminum Oxide
Steel, Wood
00000000
00000
4"
1"

1/4

"
6,000
Maroon
Aluminum Oxide
Steel, Wood
00000000
00000
5"
1"

1/4

"
4,000
Maroon
Aluminum Oxide
Steel, Wood
00000000
00000

Very

Fine—

For Extra Smooth Finish

2"
1"

1/4

"
12,000
Maroon
Aluminum Oxide
Steel, Wood
00000000
0000
2

3/8

"
2"

1/4

"
12,000
Maroon
Aluminum Oxide
Steel, Wood
00000000
00000
3"

1/2

"

1/4

"
8,000
Maroon
Aluminum Oxide
Steel, Wood
00000000
0000
3"
1"

1/4

"
8,000
Maroon
Aluminum Oxide
Steel, Wood
00000000
00000
3"
2"

1/4

"
8,000
Maroon
Aluminum Oxide
Steel, Wood
00000000
00000
4"

1/2

"

1/4

"
6,000
Maroon
Aluminum Oxide
Steel, Wood
00000000
0000
4"
1"

1/4

"
6,000
Maroon
Aluminum Oxide
Steel, Wood
00000000
00000
5"
1"

1/4

"
4,000
Maroon
Aluminum Oxide
Steel, Wood
00000000
00000