Combine these grippers with your gripping fingers to lift and move items in pick-and-place applications.
Grippers with a forced-air jaw return have two air ports: one to move the jaws open and another to move them closed. The jaws grip items from the outside as well as the inside.
Circular grippers are best for a snug grip on round objects.
IP54-rated grippers are protected against dust and water splashed from all directions. They have an IP67 capable ventilation port that can be attached to a ventilation hose (connector and hose are not included), so they can become dust tight and be submerged in up to 1 meter of water for 30 minutes. All of these grippers are suitable for use in clean rooms rated to ISO Class 5.
Note: Choose a gripper with a holding force at least 10 times your item's weight.
Warning: Never use to lift people or items over people.
For technical drawings and 3-D models, click on a part number.
Robot-Ready

Air-Powered

Grippers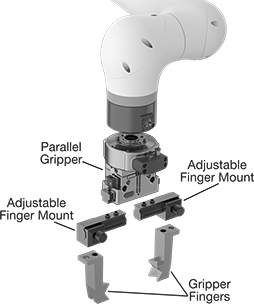 No need to find separate robot tool mounts and electrical connectors, these grippers come ready to attach to robot arms with standard ISO 50 mounting hole patterns. Designed to run on compressed air, they're often used to pick and place items in packaging, machine-tending, and machining applications. Use a regulator (not included) with your compressed air to manually adjust the air pressure that will open and close these grippers for grasping and releasing items from the inside and outside. Since these grippers will open and close at the same force and stroke with every cycle, they're good for picking items of a similar size and material. If you need to pick items of varied sizes and materials from one cycle to the next, or items that are easy to compress, programmable electric grippers would be a better choice. When selecting a gripper, be sure to match your robot arm's manufacturer series and model number. Fingers are not included.
These grippers work with your teach pendant, which signals an integrated solenoid valve, to activate the grippers. Two magnetic sensors send information about an item's location to your robot arm. The sensors have an LED status indicator that shows you if the gripper has picked or released the item. All of these grippers are rated IP40 to prevent objects larger than 1 mm, such as wire, from making contact with a live circuit.
Warning: Never use to lift people or items over people.
For technical drawings and 3-D models, click on a part number.
Robot-Ready

Configurable Grippers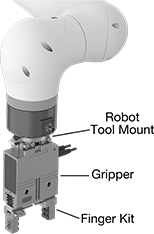 Build a complete robot gripping tool using these grippers, fingers, and robot tool mounts. They're quick to assemble, so you can test and iterate rapidly to improve their productivity and reliability. Reconfiguring them for a new job won't take long either.
For technical drawings and 3-D models, click on a part number.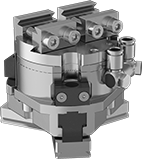 Air-Powered
Circular Gripper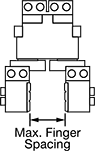 Make fingers open and close with equal force in order to grasp and release parts from the inside or out. Grippers with a higher stroke width support a wider grip. Connect them to robot tool mounts using gripper configuration kits.
Air-powered grippers run on compressed air. Circular grippers hold small cylindrical parts more snugly and centered than parallel grippers. However, they can't hold cube-shaped parts.
External /
Internal
Gripping Force

Max.


Gripping


Cap.

Grip Opening
/ Closing
Time
Cycles
per
Second
Stroke


Wd.,


mm

Max.

Finger


Spacing,


mm

Wt.

Dia.

Housing
Material
Manufacturer


(Series)

Each

Circular with Forced Air Jaw

Return—

Steel Jaws

130 lbs. @ 87 psi / 140 lbs. @ 87 psi
6.3 lbs. / 2.9 kg
30 ms / 30 ms
13
12
56
1.40 lbs. / 0.60 kg
97
Anodized Aluminum
Schunk (JGZ)
00000000
000000000
220 lbs. @ 87 psi / 240 lbs. @ 87 psi
11 lbs. / 5 kg
50 ms / 50 ms
8
16
70
2.50 lbs. / 1.10 kg
124
Anodized Aluminum
Schunk (JGZ)
0000000
00000000
400 lbs. @ 87 psi / 430 lbs. @ 87 psi
19.8 lbs. / 9 kg
100 ms / 100 ms
4
20
90
4.20 lbs. / 1.90 kg
157
Anodized Aluminum
Schunk (JGZ)
00000000
00000000

Sensor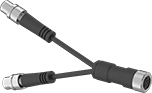 Sensor Cord Splitter
Signal when fingers are either open or closed, and use that information to trigger other actions in your system.
Magnetic sensors detect finger position by responding to magnets placed on the piston of air-powered grippers or the motor of electric-powered grippers. Sensors with programmable two-position detection send a signal when fingers open and close, letting you trigger actions in your system based on both signals.
Sensors with a plug connection work with the input/output on robot tool mounts with a power/signal block. Sensors with a hardwire connection have wire leads you either wire to a plug or hardwire to a power source.
PNP sensors communicate proximity with a positive signal, while NPN send a negative signal.
Signal
Output Type

No.

of
Sensing
Positions
Plug
Type

No.

of
Wire
Leads

Current,


mA
Voltage
Switch
Starting
Position
For
Manufacturer


(Series)

Each
Each

Magnetic with Plug Connection

NPN
1
3-Pin M8
__
50
24V DC
1 Off (Normally Open)
Schunk (DPG+, DPZ+, DRG, JGP, JGZ, KGG, PGN+E)
00000000
0000000
000000
00
PNP
1
3-Pin M8
__
50
24V DC
1 Off (Normally Open)
Schunk (DPG+, DPZ+, DRG, JGP, JGZ, KGG, PGN+E)
0000000
00000
000000
00
PNP
2
4-Pin M8
__
100
24V DC
1 Off (Normally Open) and 1 On (Normally Closed)
Schunk (DPG+, DPZ+, DRG, JGP, JGZ, KGG, MPG+, PGN+E)
00000000
000000
0000000
000000

Magnetic with Hardwire Connection

NPN
1
__
3
50
24V DC
1 Off (Normally Open)
Schunk (DPG+, DPZ+, DRG, JGP, JGZ, KGG, PGN+E)
00000000
000000
000000
00
PNP
1
__
3
50
24V DC
1 Off (Normally Open)
Schunk (DPG+, DPZ+, DRG, JGP, JGZ, KGG, PGN+E)
00000000
00000
000000
00
PNP
2
__
4
100
24V DC
1 Off (Normally Open) and 1 On (Normally Closed)
Schunk (DPG+, DPZ+, DRG, JGP, JGZ, KGG, MPG+, PGN+E)
00000000
000000
000000
00