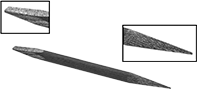 Position circuit board components without solder sticking to these picks.
Fiber picks won't mar delicate components.
Overall


Lg.

Handle
Grip
Tip
Type
Material
Handle
Material
Each

Blunt Tip × Straight Tip

5

1/2

"
Straight
Plain
Fixed
Fiber × Fiber
Fiber
000000
000000
Solder-Repelling

Pick Sets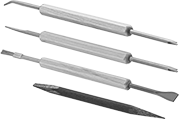 Solder won't stick to these assorted picks, which are used for positioning circuit board components. Sets include steel picks that are wear resistant for long life and fiber picks that won't mar delicate components.
Number
of
Pieces
Includes
Handle
Grip
Tip
Type
Container
Type
Each
4
8" Lg. Chrome-Plated Steel Pick with 45° Angle × Fork Tips and Wood Handle
8" Lg. Chrome-Plated Steel Pick with Blunt × Fork Tips and Wood Handle
8" Lg. Chrome-Plated Steel Pick with 302 Stainless Steel Brush × Scraper Tips and Wood Handle
5

1/2

" Lg. Fiber Pick with Blunt × Straight Tips
Straight
Plain
Fixed
Plastic Pouch
000000
000000