Fabric Grommet Kits

With Standard Washer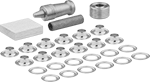 With Tooth Lock Washer
Kits include grommets, a cutting punch, a cutting block, an installation punch, and a die set. Use them to create a way to run rope and cable through tarps, covers, and curtains. Press the grommets into a hole you've already cut. They can also be used to strengthen and prevent existing holes from fraying in material. Use the cutting punch to create the hole, then set the grommet using the installation punch and die set. Made of brass, all of these grommets are strong and have good corrosion resistance. They adhere to military dimensional standard MIL-G-16491. They can also be used outdoors.
Grommets with a tooth lock washer keep material from loosening and rotating better than those with a standard washer.
For technical drawings and 3-D models, click on a part number.
Trade
Size
For

Max.


Material

Thick.

ID


(C)

Flange


Dia.

(D)

Dp.

Under
Flange

(F)

For Use
Outdoors
Specifications
Met
Includes

No.

of
Grommets
Each

Grommets with Standard Washer

Brass

0
0.1"

1/4

"
0.545"
0.175"
Yes
MIL-G-16491
Cutting Punch, Cutting Block, Installation Punch, Die Set
24
0000000
000000
1
0.1"

9/32

"
0.687"
0.185"
Yes
MIL-G-16491
Cutting Punch, Cutting Block, Installation Punch, Die Set
24
0000000
00000
2
0.14"

3/8

"
0.815"
0.215"
Yes
MIL-G-16491
Cutting Punch, Cutting Block, Installation Punch, Die Set
24
0000000
00000
3
0.21"

7/16

"
0.97"
0.295"
Yes
MIL-G-16491
Cutting Punch, Cutting Block, Installation Punch, Die Set
12
0000000
00000
4
0.29"

1/2

"
1.05"
0.374"
Yes
MIL-G-16491
Cutting Punch, Cutting Block, Installation Punch, Die Set
12
0000000
00000

Grommets with Tooth Lock Washer

Brass

0
0.11"

1/4

"
0.545"
0.175"
Yes
MIL-G-16491
Cutting Punch, Cutting Block, Installation Punch, Die Set
48
0000000
00000
1
0.12"

9/32

"
0.687"
0.185"
Yes
MIL-G-16491
Cutting Punch, Cutting Block, Installation Punch, Die Set
48
0000000
00000
2
0.15"

3/8

"
0.815"
0.215"
Yes
MIL-G-16491
Cutting Punch, Cutting Block, Installation Punch, Die Set
24
0000000
00000
3
0.23"

7/16

"
0.97"
0.295"
Yes
MIL-G-16491
Cutting Punch, Cutting Block, Installation Punch, Die Set
24
0000000
00000
4
0.3"

1/2

"
1.05"
0.374"
Yes
MIL-G-16491
Cutting Punch, Cutting Block, Installation Punch, Die Set
24
0000000
00000