System of Measurement

System of Measurement
For Hole Diameter

For Hole Diameter
Show
Opening Diameter

Opening Diameter
DFARS (Defense Acquisition Regulations Supplement)

DFARS

(Defense

Acquisition

Regulations

Supplement)
REACH (Registration, Evaluation, Authorization and Restriction of Chemicals)

REACH

(Registration,




Evaluation,

Authorization
and Restriction of

Chemicals)
RoHS (Restriction of Hazardous Substances)

RoHS

(Restriction

of
Hazardous

Substances)
Flange Diameter (D)

Flange Diameter

(D)

For Use Outdoors

For Use Outdoors
Furniture Grommets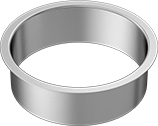 4
Eliminate clutter on desktops, countertops, benchtops, and other work surfaces by organizing wire, cable, and cords. Push these grommets into place.
Grommets with removable covers block grommet slots when they are not in use to provide dust and debris protection as well as keep objects from falling through.
Stainless steel grommets are more durable than plastic grommets.
For technical drawings and 3-D models, click on a part number.