Grommet Assortments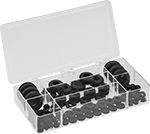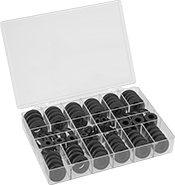 Keep grommets of various sizes on hand to solve whatever problems arise. Push these flexible grommets into place to protect wire, cable, and cords by turning rough-edged and uneven holes into smooth, insulated holes. Commonly used in metal panels, they also damp vibration. All have a medium hardness rating for a balance of cushioning and impact resistance.
SBR grommets have good abrasion resistance.
EPDM grommets are UV, ozone, and chemical resistant. They can be used outdoors.
Number
of
Pieces
Hardness
Rating
Hardness
Temperature


Range,




°F

For
Use
Outdoors
Container
Type
Includes
Color
Each

SBR Rubber

99
Medium
Durometer 55A
-30° to 170°
No
Plastic Case
Grommets for

3/16

" Hole Diameter with

1/8

" ID (25 ea.)
Grommets for

1/4

" Hole Diameter with

1/8

" ID (25 ea.)
Grommets for

3/8

" Hole Diameter with

1/4

" ID (25 ea.)
Grommets for

1/2

" Hole Diameter with

3/8

" ID (12 ea.)
Grommets for

5/8

" Hole Diameter with

3/8

" ID (6 ea.)
Grommets for

7/8

" Hole Diameter with

5/8

" ID (6 ea.)
Black
0000000
000000
172
Medium
Durometer 55A
-30° to 170°
No
Plastic Case
Grommets for

3/16

" Hole Diameter with

1/8

" ID (25 ea.)
Grommets for

1/4

" Hole Diameter with

1/8

" ID (25 ea.)
Grommets for

3/8

" Hole Diameter with

1/4

" ID (25 ea.)
Grommets for

1/2

" Hole Diameter with

3/8

" ID (15 ea.)
Grommets for

5/8

" Hole Diameter with

3/8

" ID (9 ea.)
Grommets for

3/4

" Hole Diameter with

1/2

" ID (15 ea.)
Grommets for

7/8

" Hole Diameter with

5/8

" ID (10 ea.)
Grommets for 1" Hole Diameter with

11/16

" ID (24 ea.)
Grommets for 1

1/8

" Hole Diameter with

3/4

" ID (24 ea.)
Black
0000000
00000

EPDM Rubber

99
Medium
Durometer 50A
-60° to 300°
Yes
Plastic Case
Grommets for

3/16

" Hole Diameter with

1/8

" ID (25 ea.)
Grommets for

1/4

" Hole Diameter with

1/8

" ID (25 ea.)
Grommets for

3/8

" Hole Diameter with

1/4

" ID (25 ea.)
Grommets for

1/2

" Hole Diameter with

3/8

" ID (12 ea.)
Grommets for

5/8

" Hole Diameter with

3/8

" ID (6 ea.)
Grommets for

7/8

" Hole Diameter with

5/8

" ID (6 ea.)
Black
0000000
00000