DFARS (Defense Acquisition Regulations Supplement)

DFARS

(Defense

Acquisition
Regulations

Supplement)
Guardrail Style

Guardrail Style

These are the same guardrails you see along roadways.
Drive posts into the ground and then attach rails and end pieces to create a barrier.
Instead of replacing an entire guardrail system, use transition rails to connect two-wave rails and three-wave rails.
For technical drawings and 3-D models, click on a part number.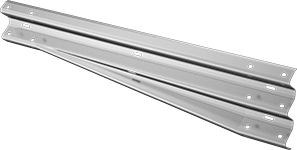 Transition Rail
Lg.

Ht.

Material


Thick.

Material
Mounting
Hardware
Each

Two-Wave

(Left)

to

Three-Wave

(Right)

Transition Rails

7'3

1/2

"
20"

1/8

"
Galvanized Steel
Connecting Fasteners Included
00000000
0000000

Three-Wave

(Left)

to

Two-Wave

(Right)

Transition Rails

7'3

1/2

"
20"

1/8

"
Galvanized Steel
Connecting Fasteners Included
00000000
000000