System of Measurement

System of Measurement
DFARS (Defense Acquisition Regulations Supplement)

DFARS

(Defense

Acquisition

Regulations

Supplement)
For Use Outdoors

For Use Outdoors
REACH (Registration, Evaluation, Authorization and Restriction of Chemicals)

REACH

(Registration,




Evaluation,

Authorization
and Restriction of

Chemicals)
RoHS (Restriction of Hazardous Substances)

RoHS

(Restriction

of
Hazardous

Substances)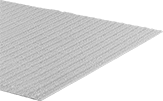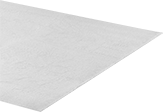 Bunching, creeping, and sliding mats and rugs can be as dangerous as they are annoying. Use underlays to keep them in place. Cut to size with scissors.
Mats for hard floors have a rubbery texture that keeps mats in their place. They're made of vinyl-coated polyester that resists odor, bacteria, mold, and mildew.
Mats for carpeted floors are made of adhesive-coated polyester that sticks to the bottom of mats to keep them in place on carpet.
Wd.

Lg.

Thick.

Material
Edge
Profile
For Use
Outdoors
Color
Each

For Hard Floors

20"
40"
0.088"
Vinyl-Coated Polyester Fiber
Flat
No
Off-White
00000000
00000
40"
60"
0.088"
Vinyl-Coated Polyester Fiber
Flat
No
Off-White
00000000
00000
60"
96"
0.09"
Vinyl-Coated Polyester Fiber
Flat
No
Off-White
00000000
00000

For Carpeted Floors

22"
44"
0.063"
Adhesive-Coated Polyester Fiber
Flat
No
Off-White
00000000
0000
60"
96"
0.06"
Adhesive-Coated Polyester Fiber
Flat
No
Off-White
00000000
00000